October 20, 2021
Ebony Theatre presents 2021 Yale Drama Award winner at 7:30 p.m. Oct. 22 for free
Submitted by Jerry Jay Cranford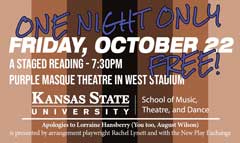 As a one-night special staged reading, K-State's Ebony Theatre will present "Apologies to Lorraine Hansberry (You Too, August Wilson)" by Rachel Lynett at 7:30 p.m. Oct. 22 at the Purple Masque Theatre in West Memorial Stadium. This event is free.
Earlier this year, Lynett was awarded the prestigious Yale Drama Series Prize for this work. On her website, she says this about her writing: "I write plays about complicated, complex women of color. These women are neither saints or villains; they're eternally both. These women are intelligent, blistered, and, most importantly, real."
"Apologies to Lorraine Hansberry (You Too, August Wilson)" is set in the fictional world of a post-second Civil War in a new state called Bronx Bay. It's an all-Black state — and neighborhood — and has been established in order to protect "Blackness." It's a utopia but enforcing utopia proves to be tricky when it comes to defining who is Black and who isn't.
"When I wrote 'Apologies to Lorraine Hansberry (You Too August Wilson),' I wanted to break as many rules as I could," Lynett said about the play in an interview with Broadway World. "As someone who is multiracial and multicultural, I often feel by existing, I am sometimes breaking the rules and wanted to write a play that reflected that. I have also spent a lot of time thinking about how to get catharsis in plays about race and how I could find a way to give the actors of color on stage a way to reclaim that. It has been incredibly humbling to see that this play resonates with others when it feels like an argument within myself."
Ebony Theatre will welcome guest director Damron Russell Armstrong, who currently serves as the executive artistic director for The Black Ensemble Theatre of Kansas City. He has directed and performed in all the major Kansas City professional theatres, as well as with the acclaimed Papermill Playhouse in New Jersey.
A talkback will follow the performance led by the director to discuss themes presented within the play.
The cast for this production will feature K-State students Tara Sitzmann, Nikèla Reed, McKenna Moten, J.T. Czoch and Marcus Edwards, with alumna Kenedi Kelley as the stage reader.