October 12, 2021
HCS benefits hosting in-person open enrollment assistance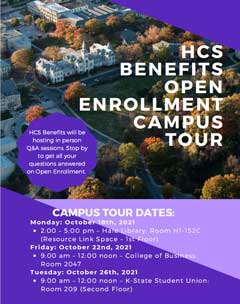 Open enrollment is underway! Benefits-eligible employees have until Oct. 31 to elect their 2022 benefits. As in recent years, 2022 features an active enrollment — meaning you must re-enroll for next year's benefits even if you do not anticipate making any changes to your benefits portfolio.
As there are some changes to vendors and the plans, your HCS benefits team wants to help make sure you have answers to any questions or concerns that you may have.
HCS benefits will host three opportunities across campus where you can stop by to get any open enrollment and benefits questions addressed:
Monday, Oct. 18
2-5 p.m. — Hale Library: Room H1-152C, Resource Link Space, first floor.
Friday, Oct. 22
9 a.m. to noon — 2047 College of Business Building.
Tuesday: Oct. 26
9 a.m. to noon — K-State Student Union, Room 209
These events are open to all faculty and staff, and no advanced registration is needed. We hope to see you soon. Can't wait? Don't worry, Your HCS benefits team is here to support you anytime at benefits@k-state.edu.