K-State students selected to promote libraries, educate peers
Tuesday, Oct. 11, 2021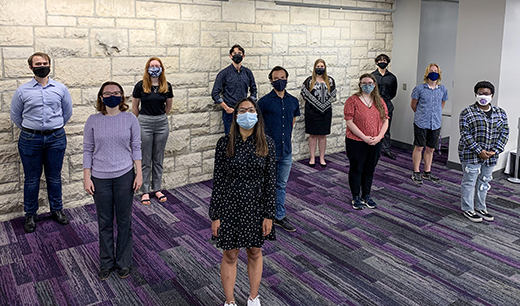 The newest members of the K-State Libraries Student Ambassadors, front row, from left: Anastasia Phomchaleun and Teri Jacques; second row, from left: Abigail Whitney, Aaron Middaugh, Brinna Wellington and Justin Castaldi; back row, from left: Carson Krehbiel, Sophia Palcic, Bryan Karten, Victoria Droge and Dakota Kopas. | Download this photo.
MANHATTAN — Twelve Kansas State University students have been selected to join the K-State Libraries Student Ambassadors. The ambassadors help promote and advocate for all libraries, including Hale Library.

The new ambassadors will serve two-year terms as representatives for K-State Libraries at social, cultural and recruitment activities. They join 21 students currently serving as ambassadors. The ambassadors provide valuable feedback on K-State Libraries' initiatives and services, as well as advocate for the perspectives of the larger university student body. The ambassador program provides students with leadership skills and the opportunity to make a positive impact at the university. For more information about the program, visit lib.k-state.edu/ambassadors.

The ambassadors were chosen following an application process and finalist interviews. The interview committee included advisers Sara Kearns, academic services librarian; Darchelle Martin, director of communications and marketing; and Nicole Buehler, user services specialist. They were joined by three current ambassadors.
"We are once again ecstatic to welcome such a dedicated, passionate and committed group of students to our program," Martin said. "Their energy has only added to this exciting era for K-State Libraries."

The following students are K-State Libraries Student Ambassadors:

Dakota Kopas, freshman in mechanical engineering, Derby.

From Greater Kansas City: Carson Krehbiel, senior in entrepreneurship, Lenexa; Justin Castaldi, freshman in biology, and Sophia Palcic, junior in mathematics and park management and conservation, both from Olathe; Abigail Whitney, sophomore in English, Overland Park; and Aaron Middaugh, senior in French, anthropology and Spanish, Shawnee.
Victoria Droge, junior in biomedical engineering, Lawrence; Brinna Wellington, freshman in history, Manhattan; Bryan Karten, freshman in open option, Perry; Anastasia Phomchaleun, junior in French, political science and pre-law, Salina.

From out of state: Natalie Liptak, master's student in English, Jacksonville, Florida.

From out of country: Teri Jacques, sophomore in English and mass communications, Port au Prince, Haiti.