October 7, 2021
K-State Symphony Orchestra to present fall outdoor concert on Oct. 10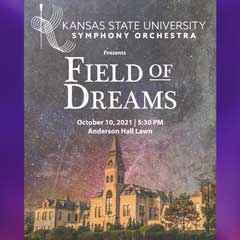 Join the K-State Symphony Orchestra this Sunday, Oct. 10, for its opening concert of the season, "Field of Dreams." Featuring music from the movies, this family-friendly concert is sure to inspire music lovers of all ages.
The concert is free to the public and will be held outside on the Anderson Hall lawn at 5:30 p.m. Bring a lawn chair or blanket, as well as a picnic if you wish, and enjoy a beautiful evening of fun music and fantastic community.
Make sure to bring your wallet — the orchestra will have a variety of fun opportunities to support its future endeavors, including a raffle to conduct the "Wabash Cannonball." See you Sunday!