September 16, 2021
K-State Horticulture Club to host fall mum sale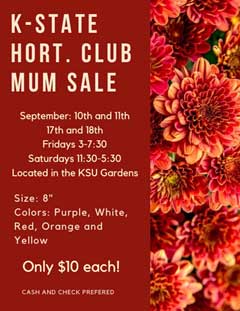 Come support the Horticulture Club, a registered departmental student organization, and stop by the K-State Gardens this weekend to pick out some festive fall mums.
The club will sell mums from 3-7:30 p.m. Friday, Sept. 17, and 11:30 a.m. to 5:30 p.m. Saturday, Sept. 18.
Mums will be available in purple, white, red, orange and yellow. Each 8-inch mum is just $10.