March 14, 2013
Longtime plant breeder, industry leader to present prestigious agronomy lecture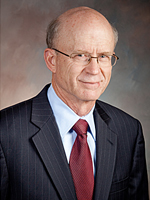 Longtime plant breeder and industry leader Marc Albertsen will present the 29th annual Elmer G. Heyne Crop Science Lectureship at 4 p.m. March 27 in 1018 Throckmorton Hall. The title of the lecture is "Reproductive Biology: Its Role in Improving Crop Productivity." A reception will be on the first floor Throckmorton lobby at 3:30 p.m. prior to the lecture.
Albertsen is a senior research fellow and director of DuPont Pioneer's Research for Enhanced Adaptation and Crop Hybridization group, a research discovery group assembled to address the challenges of crop production in the next decade by working to expand the environmental adaptation of maize and to increase the reproductive productivity of crops in general.
He is also the Pioneer lead for two philanthropic, multi-partner collaborations, each with the goal of improving the lives of subsistence farmers in Africa. One of these is the Africa Biofortified Sorghum project, which is developing nutritionally-enhanced sorghum to enhance the lives of people dependent upon sorghum for their staple diet. The other is the Improved Maize for African Soils project, which is improving the nitrogen use efficiency of maize for subsistence farmers through a combination of conventional, molecular, and transgenic breeding.