June 25, 2021
Craig Harms named interim dean of College of Health and Human Sciences
Submitted by Communications and Marketing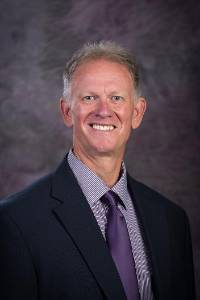 Craig Harms, professor and head of the kinesiology department in the Kansas State University College of Health and Human Sciences, will serve as interim dean of the college, effective July 11.

Harms was appointed to the position by Charles Taber, provost and executive vice president, following an internal search. Harms will serve while a national search is conducted to fill the deanship following the departure of John Buckwalter to serve as provost of Boise State University. The search is expected to begin in late August or early September, with a permanent dean hired by spring 2022.

"Dr. Harms has an exceptional record of distinguished academic achievement in research, teaching and leadership, making him well-suited to serve as interim dean of the College of Health and Human Sciences," Taber said.

As interim dean, Harms will serve as the chief academic and administrative officer of the college. He will be responsible for providing leadership, strategic vision and direction and support for the college, along with inspiring, guiding and facilitating a strong and diverse faculty in the advancement of high-quality teaching, research, service and extension.

"I am honored and excited to be named interim dean of the College of Health and Human Sciences and want to thank Provost Taber and the search committee for this opportunity," Harms said. "The college has benefited tremendously from the leadership of Dean John Buckwalter. I look forward to continuing working with our talented faculty, staff, students and alumni to further the mission of our college."

For his teaching and leadership, Harms has been recognized with many university and professional honors, including the 2021 American Kinesiology Association Jerry R. Thomas Distinguished Leadership Award, K-State's 2019 Presidential Award for Outstanding Department Head, 2016 Professorial Performance Award, 2014 Myers-Alford Teaching Award from the College of Human Ecology, 2002 William L. Stamey Award for Excellence in Undergraduate Teaching from the College of Arts and Sciences and K-State's 2000 Presidential Award for Outstanding Undergraduate Teaching

An active researcher, Harms' interests include human stress physiology, cardiopulmonary responses/interactions/limitations to exercise and the environment; factors affecting oxygen transport during exercise and physical training; physiological sex differences; pediatric exercise physiology, inactivity physiology and aging. His work has been supported by grants from the National Institutes of Health, U.S. Army and Department of Defense, American Heart Association, American Lung Association and more. He has authored or co-authored more than 100 refereed publications, book chapters and manuals, and he has presented his work nationally and internationally.

For his work, Harms was named a fellow of the American College of Sports Medicine, served as its vice president in 2017 and on its board of directors for multiple terms. Students under Harms also have excelled, with many of the graduate and undergraduate students he has mentored and supervised earning top research awards for their work.

Harms joined K-State in 1997 as an assistant professor of kinesiology. He was promoted to associate professor in 2001 and to full professor in 2010. He served as associate head of kinesiology from 2013 to 2014 before being named head of the department in 2014. He earned a bachelor's in biology from Nebraska Wesleyan University, a master's in exercise physiology from Colorado State University and a doctorate in physiology from Indiana University. He served as a postdoctoral fellow in cardiopulmonary physiology at the University of Wisconsin before joining K-State.