May 28, 2021
Interior Architecture and Industrial Design's Kutay Güler earns bronze in international furniture awards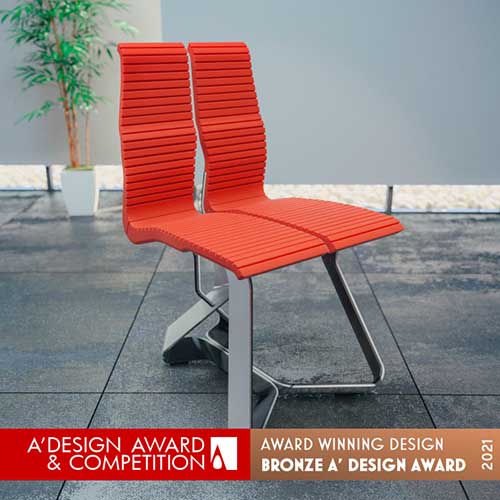 The A'Design Award and Competition recently honored Kutay Güler, assistant professor in the interior architecture and industrial design department in the College of Architecture, Planning and Design at Kansas State University, with the international 2021 Bronze A'Design Award in the furniture design category.
Inspired by the dynamic nature of sitting, in order to adaptively support the shifting poses and weight of the user, the chair form is split on the vertical axis creating two halves that can react to the user independently and asymmetrically. The effect of the split is inspired by the Onement series of paintings by Barnett Newman (1905-1970). The split creates a negative space that emphasizes independence yet, it also becomes the visual element that underlines and celebrates unity and totality.
Although often envisioned as a static posture, sitting is a dynamic action. Seating surface applies pressure to the user's body and forces them to shift their weight and realign their body to regulate blood flow and balance tissue perfusion. Research suggests that fidgeting starts within 30 minutes. This design addresses the dynamic nature of seating by splitting the chair into two sides that can flex independently and respond to the shift in weight distribution more actively and efficiently.
The typical seat is often imagined as a static entity, supporting the body in a linear way, disregarding the frequent changes in sitting poses and the shifting user weight. Plit chair proposes a new perspective by dividing the seating surface on the vertical axis to create two sides that react to the user independently as they re-adjust their pose. The seat surface is scored to provide better support. The base is composed of two curving strips to give the impression of fluidity and leniency.
"This type of deep analysis of the ergonomic needs of users reflects what our department has embedded as the foundation of our degree paths in interior architecture and industrial design," said said Professor Nathan Howe, head of the interior architecture and industrial design department. "Professor Güler's work reflects a beautifully empathetic design that conforms to the user's needs."
Güler is an award-winning, NCIDQ licensed interior architect and academician based in Manhattan. He earned his bachelor's and master's degrees at Bilkent University — Turkey, Department of Interior Architecture and Environmental Design in 2006 and 2009 respectively. He joined K-State in 2018. His research focuses on the intersection of environmental design dynamics and digital tools. His papers were published in leading high impact journals such as Computers & Education, Journal of Simulation, Museum Management and Curatorship. He authored the book "Simulating Visitor Behavior" and edited the book volume titled "Contemporary Issues in Housing Design," both published by Cambridge Scholars Publishing. He has also pursued a freelance design career since 2006, during which he completed more than 60 commercial and residential interiors along with numerous industrial designs, landscape design and architectural visualization projects for an international clientele.
The A'Design Award and Competition Furniture Design Award is open to entries of products and projects including but not limited to furniture designs, household furniture, houseware, furniture accessories, interior objects and decorative items, white goods, home textiles, lighting as well as their marketing and communication.