May 24, 2021
'Run for students, by students': An opportunity for learning, professional development in College of Business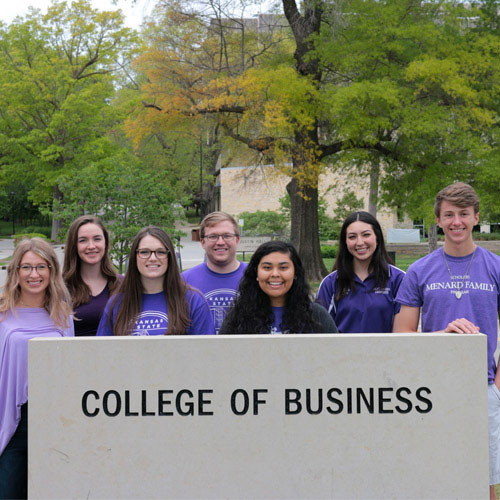 In the College of Business Administration, things have looked a little different and operations have been redesigned to fit the new normal. The advising front desk in the Student Success Center has had no shortage of adjustments — and staff members have adapted with smiles on their faces.
With the building being more quiet than usual, the team in BB-1001 has had the opportunity to focus on enhancing and redesigning workflows. Over the last three semesters, this office has successfully transitioned to be completely student-run and has been able to update processes to an online format and design operations to work remotely, hybrid and in person in preparation for when students return. With the new motto "run for students, by students," the organizational structure has proven positive.
Under this new model, the front desk of the college's Student Success Center is staffed with undergraduate students with a graduate student as direct supervisor. This supervisor reports to the assistant dean for undergraduate student services and the whole team works to support academic advising, recruitment and the dean's office for undergraduate students. This has provided these student workers with autonomy and independence over their own specialized processes while stimulating a professional office environment. Here they feel like they have a voice, which has enhanced their communication and emphasized skills learned in the classroom into a well-oiled team management initiative.
Makenna Dandurand, graduate assistant supervisor and Master of Business Administration student, served as the first graduate student in this role and has truly shaped the role for future graduate assistants.
"Makenna has led the transition of the front desk operation to a student-run team and has been instrumental in working with the undergraduate students on creating a framework for and enhancing front desk processes and workflows in addition to building a supportive, inclusive and collegial work culture," said Bente Janda, assistant dean for undergraduate student services. "The rest of the team is very impressed and pleased with the accomplishments of our student workers and the difference they are making for other students and the entire team. All the students have loved working with her for the past two years. As a May 2021 graduate from the MBA program, Makenna will be missed but her dedication, kindness and diligence in the College of Business will not be forgotten."
The front desk works directly with the academic advisors in the College of Business Administration, assisting students with appointments, inquiries, graduation, enrollment and curriculum changes. Staffers' work has been expanding as their processes have evolved and they maintain the behind-the-scenes operations in the Student Success Center.
"The system that our students and staff have developed and implemented would work well for any college or office here at K-State," Janda said. "The benefits have been extraordinary for everyone involved. Anything from hiring new student workers from start to finish to creating an onboarding channel for new hires — it's brought professional growth to the student workers and has allowed our office to provide an even better Student Success Center experience to our current students."
If you're interested in finding out more, please contact Janda, bjanda@k-state.edu.