March 6, 2013
A letter from A.D. John Currie: Breaking news about the 2013 football schedule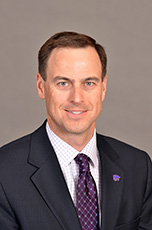 Good morning, K-State Nation.

Can you believe it is March 6? Time flies when you are having fun, and having our men's basketball team ranked ninth and battling for a Big 12 title in the last week of the season definitely qualifies as fun! Last night's game against TCU was very special as the winningest senior class in K-State history — Rodney McGruder, Jordan Henriquez and Martavious Irving — took to the court for their final game in Bramlage Coliseum.

Before we get to a few other departmental updates, we have important breaking news regarding our 2013 football schedule to bring to your attention.

The Big 12 and our television partners will soon be announcing several adjustments to the 2013 schedule including a Friday night full national prime-time cable telecast of our season-opening game vs. North Dakota State, now scheduled for 7:30 p.m. CDT
Aug. 30
.

This is an exciting opportunity for K-State, especially as we showcase the grand-opening of the new West Stadium Center. But I certainly understand that a rare

Friday

night game leads to many questions. Here is the background behind the process that led to this decision:

First, it has been our strong preference to play our season-opening game in the evening to avoid the daytime heat. However, there is significant TV interest in this matchup against North Dakota State, two-time defending FCS national champion and owner of victories over KU, Minnesota and Colorado State in the past three seasons. As such, our game was to be selected by our conference television partners for an 11 a.m. or early afternoon kickoff if it remained scheduled on Saturday,

Aug. 31

.

The Big 12 Conference television contracts require that we provide our partners with four

Thursday

night games as well as a game on the

Sunday

preceding Labor Day each season. FOX asked us to move our NDSU game into its national

Sunday

evening broadcast slot, but we felt that would negatively impact our student attendance as well as the Labor Day holiday weekend plans of our fans.

We were then offered the Friday night slot. We were initially concerned about negatively impacting high school football, but we confirmed that Friday,

Sept. 6

, is the prep season kickoff. We discussed the idea with Coach Snyder, President Schulz's cabinet, the Ahearn Fund Advisory Board and our staff, and with their unified support we made the decision to proceed with the shift to

Friday

night.

In addition to tremendous national exposure as we kick off the season and celebrate the opening of the West Stadium Center, the Friday night game will give us an extra day of preparation for our next opponent

Sept. 7

and make it easier for our fans and students to catch the game before heading into their holiday weekend plans. We will also be doing our part to enable the Big 12 to fulfill our contractual requirement as this game will substitute for the

Sunday

obligation. And, as a bonus, the night start will enable us to feature our annual K-State Family Reunion fireworks show.

Finally, read the FOX Sports press release about the launch of FOX Sports 1, which is already slated to be carried in at least 90 million homes. We are excited to be selected for a marquee slot in the launch weekend of FOX's new 24/7 national sports channel.

Last season's fan support was incredible as we tied a school record with six sellouts and achieved the second-highest average attendance in school history. Ticket information for the upcoming season is now available, so make your plans now to be a part of history at Bill Snyder Family Stadium in 2013. For the first time in many years our schedule features eight home games, including five Big 12 Conference foes! And tickets are going fast as more than 2,500 season tickets were sold on

Monday

– matching last year's first-day record total!

A full stadium for all our home contests is not only a tremendous advantage for our team. It is a huge difference-maker that positively affects recruiting, and the national image of K-State, Manhattan and the state of Kansas. Thanks in advance for doing your part to help make Bill Snyder Family Stadium the true home of the "Best Fan Experience in the Big 12."

Speaking of BSFS, I toured the West Stadium Center

yesterday

along with former A.D. Max Urick and Mortenson/GE Johnson superintendent Justin Horsch (a graduate of K-State's nationally respected construction science and management program). I didn't have a video camera with me this time, but it is incredible to see the progress made over the last few weeks. More than 220 workers were on the job site

yesterday

! Construction is on schedule, and we'll be open

Aug. 30

.

And now on to a few more updates, which includes a look back at an exciting four days of Wildcat action.

Memorable Senior Day for Chambers and White
Saturday's 68-62 women's basketball win over second-place Texas Tech provided a lasting memory for Brittany Chambers and Mariah White in their final home game as Wildcats as our senior duo led our injury-depleted seven-player K-State roster to the upset. And, did you see the 'Cats battle Monday

night

against No. 1 Baylor and Brittney Griner on FSN? Although the Bears were able to pull away in the last 10 minutes, we were proud of how Coach Patterson's squad executed and shot their way back into the game, trailing 63-60 with just 11 minutes left.

We especially encourage DFW K-Staters to head over to American Airlines Arena and join President Schulz and me for

Friday

night's Phillips 66 Big 12 Women's Basketball tournament opening-round game against the Texas Longhorns at 6 p.m. Tickets are available at the arena or by clicking here.

Baseball Opens Home Slate with Sweep
Coach Hill and the Wildcat baseball team opened their home schedule this past weekend by sweeping three contests against Oakland to move to 6-3 on the year. Our operations and facilities crew did a terrific job getting the stadium prepared for play, and the crowds over the weekend were spirited both days despite chilly weather. You will have plenty of chances to see the Cats in action this month in a 19-game homestand that runs through March 26. Next action is today at 3 p.m. against Niagara. You can also listen and watch this week's games by clicking here.

Wait Sets K-State Pole Vault Record
Sophomore pole vaulter Kyle Wait traveled to Arkansas' Last Chance Meet last week with the hopes of qualifying for this weekend's NCAA Indoor Championships. Not only did he accomplish that feat, but he also returned to Manhattan with a new school record, clearing 5.45 meters! Kyle joins a group of five Wildcats heading back to Fayetteville this weekend for the NCAA Championships, including Midwest Field Athlete of the Year Erik Kynard (high jump), Carlos Rodriguez (200m), Devin Dick (heptathlon) and Merryl Mbeng (pentathlon). Good luck to these student athletes this weekend!

Women's Cross Country Team Earns National Academic Award
The women's cross country team followed up a strong season on the course with a team academic award earlier this month as they earned USTFCCCA 2012 Division I Cross Country Women's All Academic Team honors for the third straight year. More impressively, the team's 3.623 GPA was the highest among Big 12 cross country programs! Congrats to Coach Smith and each member of the Wildcat cross country team!

McGruder a Top 30 Candidate for Naismith Award
Senior Rodney McGruder continues to have honors roll in and he was recently named one of 30 candidates for the 2013 Naismith Men's College Player of the Year Award. The team leader in scoring, rebounding and field goals has been a terrific leader for Coach Weber this season and has meant so much to this program and university throughout his four-year career. And, it was great seeing our First Team Academic All-Big 12 member smartly knock in the game-winning three-point shot at Baylor which rolled repeatedly on "SportsCenter" all weekend long!

On a personal note, I want to thank our basketball seniors, Brittany, Mariah, Jordan, Martavious and Rodney. They were freshmen in summer 2009 as my family and I arrived on campus, and it has been wonderful to see them grow as students, basketball players and leaders. And they've helped K-State (and me) grow, too! All five will graduate this spring, and I'm looking forward to following their postcollegiate careers.
Lastly, watch a short "last dance" video circulating campus.

Go Cats!

John Currie