March 6, 2013
Journalism and mass communications unveils Kedzie Think Tank
Submitted by Journalism and Mass Communications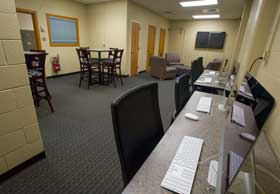 Kedzie Hall has a new place where students can work as they become the innovators, storytellers and strategic communicators of the future. The Think Tank is a place where journalism and mass communications students can collaborate with colleagues and tap into their creative energy.
During summer 2012, A.Q. Miller School of Journalism and Mass Communications faculty spearheaded the renovation of Room 215 in the 1960s-era "new" wing of Kedzie Hall that once housed photography darkrooms. They put in more than 75 hours of sweat equity, cleaning and painting the room to transform it into a vibrant, student-oriented workspace and gathering place.
"The Think Tank is more like a comfortable, modern office environment than a classroom environment," said Andrew Nelson, R. M. Seaton professional journalism chair and one of the faculty members who spearheaded the project. "There are lounge chairs, bar height tables on which to work and four computer stations with all the software students need to work on projects. There is also a 60-inch flat panel TV for students to show work during client presentations or at the end class projects."
"The Think Tank is helpful to me because it's a quiet place to work and offers computers that have the programs I need for my journalism classes, which would cost me a lot of money to buy on my own," said Emily DeShazer, junior in mass communications and photo editor for the Collegian, the student newspaper. "It's also helpful as a place to hold meetings."
The importance of the Think Tank was recognized by K-State in November 2012 with nearly $9,000 from the President's Academic Excellence fund. The award helped complete the project, which was also funded by a generous donation from Lucy Fitch, an alumna of the Miller School, and general funds from the KSU Foundation.
"It is important to have a place to let learning and creating happen informally and The Think Tank will be a perfect place for that to happen for students in the Miller School," Nelson said.