April 12, 2021
History department shares passing of Robert D. Linder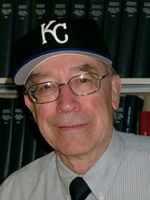 The Department of History is saddened to announce the passing of University Distinguished Professor Emeritus Robert D. Linder on April 4.
Linder was a member of the history faculty at Kansas State University from 1965 until his retirement in 2018. He was a pillar of the history program, especially its religious history emphasis. The influence and impact he had on his students was extraordinary, many of whom remained in touch with him and remain in touch with each other decades after graduation. In some instances, he taught successive generations of students from the same family and remembered them all.
It was his students that took the initiative to establish the Robert D. Linder History Scholarship to honor his legacy. This scholarship is now the most popular in terms of donations received due to the continuing support and commitment from his former students. Memorial contributions may be made to the scholarship through the Kansas State University Foundation.