April 12, 2021
College of Education produces international documentary about rural schools and the pandemic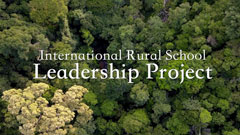 An opportunity for rural school leaders to learn from one another has developed into an international effort so impactful in light of the pandemic that the College of Education produced a documentary highlighting insights and takeaways from the participants.
The "International Rural School Leadership Project" is a 30-minute documentary based on a collaborative effort to create a forum for educational leaders from rural communities as varied as the American heartland, Appalachia and a coastal community near the Great Barrier Reef. View the new documentary, as well as all of the college's other documentaries and videos, on its YouTube channel. The college invites you to subscribe.
Jerry Johnson, professor and chair of the department of educational leadership and Lydia E. Skeen endowed professor, believes this film will be a tremendous resource for educators.
"This was a unique opportunity to bring together outstanding rural leaders from Kansas, Pennsylvania and Australia to share their successes and challenges during the COVID-19 pandemic," Johnson said. "They learned with and from each other, and their shared experiences highlighted the commitment, resilience and innovation that brought their schools and communities through this challenging time."
For more information about this project, please read the feature article about it on page 22 in the last edition of the college's Connections magazine.