April 9, 2021
Congratulations to winner of University Printing's gift basket drawing
Submitted by University Printing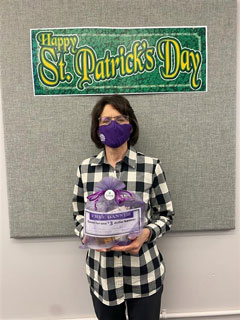 Cindy Sorrick, software quality assurance coordinator for the Division of Information Technology, is the winner of University Printing's first gift basket drawing. The drawing was part of the St. Patrick's Day banner contest.
Anyone who purchases any of University Printing's $3 banners will be eligible for future drawings. View all banners on the PDF list.
Stay tuned to K-State Today for the next drawing.