February 26, 2021
'Kansas Theatre Works' and Ebony Theatre present 'JAZZ DISTRICT'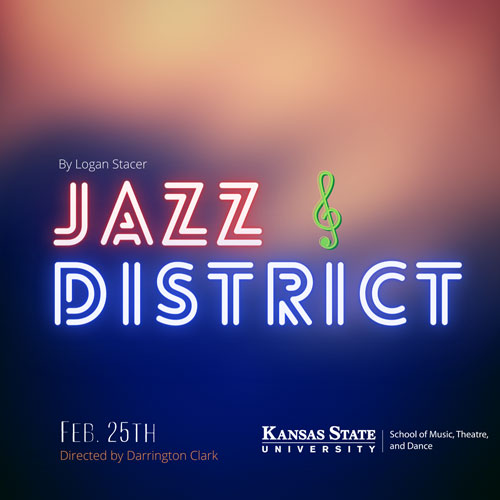 The "Kansas Theatre Works" podcast is back again for the spring and is kicking the season off with "JAZZ DISTRICT," a co-production with Ebony Theatre written by Logan Stacer and directed by Darrington Clark that released Feb. 24.
In the spirit of its historic namesake, "JAZZ DISTRICT" celebrates the past of Kansas City's 18th and Vine while putting it face to face with a story of its future. During a COVID-induced gap year, Langston, a young artist, must decide whether his next steps will be in the direction of higher education or helping run his grandfather's plant shop. We unpack what it means to be young, Black and have a choice.
This is Stacer's debut play. He is a graduate of Kansas State University and New York University's Tisch School of the Arts.
Be on the lookout for future episodes of "Kansas Theatre Works" this spring including the upcoming "Evening of Opera Highlights," releasing on March 18, and "In Process: Creating Songs for the Stage," a series of scenes and musical selections from works created by four K-State alumni, releasing on April 29. As always, bonus content is released all throughout the season.
You can listen to "Kansas Theatre Works" for free at any time on any major podcast platform or by visiting the Kansas Theatre Works webpage.
For more information about the performing arts at K-State, including concerts, performances and special events, visit k-state.edu/mtd. The School of Music, Theatre, and Dance is a part of the College of Arts and Sciences.