February 28, 2013
Spire to lead 'Take 5: Teaching Technologies that Work' panel at ITL conference March 4-5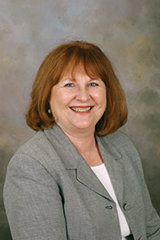 K-State faculty are sampling a variety of technologies in their daily work. They will be sharing some of their favorites in a "Take 5" session at 2:30-3:30 p.m. March 4 at Union Forum Hall as part of the Innovations in Teaching and Learning conference.
Lynda D. Spire, assistant dean for Continuing Education, is leading the discussion panel "Take 5: Teaching Technologies that Work." In this question and answer session below, she discusses K-State's endeavors for promoting quality e-learning and how this upcoming panel discussion introduces a range of fresh technologies for teaching and learning.
You have been working on the issue of quality e-learning for many years. What are some of the main lessons you've learned in your work?
The definition of online course quality is very subjective and even personal as every instructor brings his/her own teaching skills to the table. Teaching in the online environment is very different and some faculty members almost immediately thrive in this environment while others struggle. Making resources available for faculty at any level of expertise is a good solution and is the goal of the E-Learning Faculty Modules wiki.
What is the E-Learning Faculty Modules resource? How do you want this to be used by faculty?
Again, needs vary according to experience, skills and expertise. A person who has survived their first plunge into teaching online realizes that there is no single way to teach online and that there are many options and teaching tools available. The wiki that was developed specifically for K-State instructors by other faculty, K-State instructional designers and campus experts, locates numerous resources in a central location.
While the wiki has many sections, there are the three main modules called Beginner's Studio, E-Learning Central and Advanced Workshop that offer tools for faculty at all levels of expertise. Helpful for newer online instructors is the Getting Started module found in the Beginner's Studio. This module, developed by seasoned K-Staters who teach at a distance, introduces online instruction. Each section of the wiki offers something different and new sections and materials are constantly being developed and added to the wiki. We like to think that the wiki is appreciated as a pressure-free location where all instructors can self-identify their level of expertise and select materials pertinent to their needs.
See the full article in the Information Technologies News blog.