February 28, 2013
#WhyIGive: Join today's social media celebration of philanthropy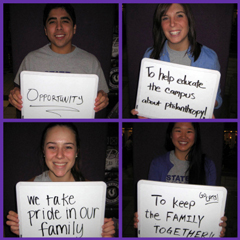 On the heels of another successful K-State Proud campaign week, the Student Foundation invites the university community to join us in a celebration of philanthropy. Today, use the hashtag #WhyIGive to share why you give back to your campus or community on social media.
There's no wrong answer — we want to see why students, faculty and alumni give their time and resources to worthy causes on our campus, in our community, and around the world. Stop by our booth in the K-State Student Union from 11 a.m. to 1:30 p.m. today to learn more or to share your thoughts on social media.
#WhyIGive is an interactive social media campaign that empowers students, alumni and friends of K-State to share why they believe in the power of philanthropy. The Student Foundation is coordinating the event as part of National Student Engagement and Philanthropy Day.
For more information, follow the Student Foundation on Twitter (@KStateStufo) or visit http://www.found.ksu.edu/student-foundation/. To learn more about K-State Proud, a student campaign facilitated by Student Foundation, visit www.k-stateproud.org.