January 14, 2021
Passion inspires K-State veterinarians to help homeless animals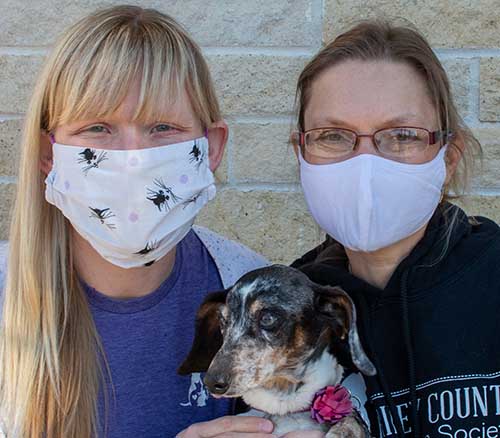 Faculty and students at the Kansas State College of Veterinary Medicine are sharing their passion for shelter medicine with the Riley County Humane Society by providing veterinary care and finding homes for homeless animals in Riley County and beyond.
Lisa Pohlman, associate professor of clinical pathology, and Jessica Meekins, associate professor of ophthalmology, serve as president and vice president of the human society, respectively.
After earning her Doctor of Veterinary Medicine from the Ontario Veterinary College in 2001, Pohlman worked in small animal practice for several years providing discounted veterinary services to a county shelter and developing policies and procedures for disease control.
"There was just so much need, and not enough resources or awareness of the massive problem of pet overpopulation," Pohlman said. "I think from that time on, I knew I'd always have to volunteer my time and skills to help."
Pohlman became involved with the Riley County Humane Society shortly after joining the College of Veterinary Medicine faculty at K-State, and upon spending time with the organization, she took on the role of president.
"I felt an obligation to offer to help local organizations, so I started volunteering for the Riley County Humane Society," Pohlman said. "At first, I was a foster parent. Then, I ran their community microchip and vaccination clinics. Then in 2012, the organization went through upheaval and was going to fold because there was no one willing to run it. So, with much trepidation, at the last minute, I volunteered for the job."
In 2013, Meekins joined the humane society as vice president. Despite the struggles of running the organization, she says the hard work is more than worth it.
"Every time a foster animal finds a forever home, we save a life and make an impact," Meekins said. "I am also excited that we have the ability to provide quality medical care to animals with special needs, as many shelters and rescue groups are unable to do this due to limited resources. We are able to rescue dogs and cats that would otherwise face humane euthanasia for health problems that are manageable and often curable."
In addition to Pohlman and Meekins, many veterinary students have volunteered their time with the Riley County Humane Society assisting with fostering and veterinary care. Among them are Stephanie Helmer, second-year student, and Amanda Bennett, third-year student.
While working in the intensive care unit in the Veterinary Health Center, Helmer's involvement with the humane society began when a stray animal was brought in for care.
"This injured kitten immediately stole my heart, and when asked for a volunteer to foster her, I jumped on the opportunity," Helmer said. "I ended up adopting that foster kitten, but I've since fostered other cats with special medical needs. I love that I get the opportunity to be involved in the care of these sick animals. Not only is it extremely fulfilling and rewarding to observe their healing process, but it also allows me the opportunity to further develop my veterinary skills and knowledge."
Bennett started out fostering dogs with RCHS and has been involved with new dog/cat intake and vaccinations for new rescues for about a year.
"My favorite part has and always will be the feeling you get when an animal finds a new home or comes to the Riley County Humane Society from a place of need," Bennett said. "Seeing the changes that happen to these animals and the trust that they have in us makes it all worth it. I absolutely love using the skills I have learned in veterinary school and applying them to these incoming animals."
RCHS has recently developed an emergency pet food pantry for owners who are experiencing financial hardship during the COVID-19 pandemic. The missions of the pantry are to keep pet owners from having to choose between feeding themselves and their pets and to keep loved pets in their homes and out of over-crowded shelters.
Started with the help of major donations from Sunflower Natural Pet Supply and the Caroline Peine Charitable Foundation, the pantry is located at the west entrance of Colony Square at 555 Poyntz Ave. and occurs on the first and third Saturdays of the month from 9 a.m. to 10 a.m.
Those who are interested in requesting services from the pantry can apply at https://bit.ly/RCHSPANTRYAPP.