December 21, 2020
K-State collaborative project helps develop app for Cambodian farmers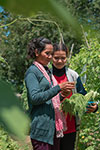 In partnership with the private company GoNative, based in the United States, the Appropriate Scale Mechanization Consortium has developed an app that is intended to bridge the communication gap between smallholder farmers in Cambodia and potential consumers.
The consortium was established at the University of Illinois, Urbana-Champaign through funding from the Feed the Future Innovation Lab for Collaborative Research on Sustainable Intensification, managed by Kansas State University. The project focuses on intensifying smallholder farmers' cropping systems and on-farm operations through mechanization in a sustainable manner.
After a team from the University of Battambang in Cambodia performed extensive research and introduced many improved crop management practices and mechanical tools for vegetable production to farmers in the region, farmers, specifically women.
"These farmers requested a marketing tool that would help link them to consumers in their communities and provide a secure pathway of selling their vegetable crops," said Manny Reyes, regional coordinator and research professor with the Sustainable Intensification Innovation Lab and collaborator on the consortium project in Cambodia.
"Smallholder farmers sometimes lack access to profitable markets where they can sell their products," said Swetank Shekhar, founder of GoNative International. "This app can give them the means to achieve sustainability through their hard work while also benefiting the community."
After several weekly online training sessions from the U.S. GoNative team, the consortium-University of Battambang team introduced the app at a field day for farmers to experience firsthand.
This GoNative for Battambang app will not only provide direct access for farmers to sell their vegetable crops to the consumer but because of that direct link, it allows a sense of validation that the farmers' vegetable crops will be sold.
"We hope that this app establishes a much-needed communication line between farmers and consumers and benefits the smallholder farmers in Cambodia, especially women," said Horace Clemmons, founder of GoNative. "A large part of their livelihoods depends on the ability for them to profit off their crops, and GoNative is intended to nurture that ability."
"It is not enough to increase the yields; we need to ensure that they can sell their produce at a good price and see this activity as business for income generation," said K-State's Vara Prasad, university distinguished professor and director of the Sustainable Intensification Innovation Lab. "Providing innovative digital tools along with access to broadband internet is a key step toward empowering smallholder women farmers to shift from subsistence farming to become entrepreneurs."