February 19, 2013
Thank you for helping K-State kick off the sesquicentennial in a big way
Submitted by Kirk Schulz and Jackie Hartman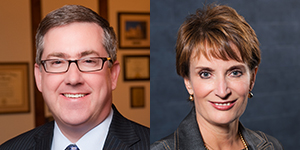 Dear faculty, staff and students,
We are still feeling great after four days of K-State sesquicentennial celebration. What an incredible weekend to be a Wildcat! But now it's time to get to the business of thanking all of you who made the start to the nine-month celebration of our sesquicentennial such a success.
It was wonderful to see so many members of the K-State family once again packing Ahearn Field House with purple pride last Thursday. It was fascinating to hear to our past student body presidents reflecting on what makes K-State a special place for students. The wildcat statues — both at Ahearn and the Alumni Center — showcased many different aspects of the university, which we also could learn about from the displays set up around the field house.
Our student musicians set a wonderful tone for the celebration, and it certainly was special to hear Ahearn resonating with chants of "K-S-U." And the special Wildcat 150 ice cream wasn't too bad, either!
From the kickoff to Friday night's gala to honoring Founder's Day at Bramlage, complete with a men's basketball win over Baylor, your participation made all the difference.
We encourage you to stay connected to the 150th website so you don't miss out as the celebration continues. Next up, the Brown Bag Lecture Series begins tomorrow with Linda Duke discussing the cabinet of wonders concept that is shaping the exhibition honoring the sesquicentennial, "Museum of Wonder."
As the university continues honoring K-State's birthday up through homecoming festivities in October, we hope you will find your own ways to celebrate the 150th in your campus groups, classrooms and more. As you have proven with your participation, we have many reasons to be proud.
Go 'Cats!

Kirk Schulz
Jackie Hartman