February 19, 2013
A letter from A.D. John Currie: Breaking ground on another facility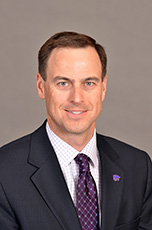 Good morning, K-State Nation.

First off, congratulations to Angel Rodriguez for being named Big 12 Player of the Week!
This past weekend was full of competition and exciting activities here on campus beginning with Thursday's kickoff event for the nine-month celebration of K-State's 150th anniversary. It was great to see the thousands of K-Staters inside Ahearn Field House on Thursday walking through all of the exhibits while enjoying a classic K-State tradition — Call Hall ice cream. On Friday evening more than 800 K-Staters from all generations attended the sold-out Gala 150 in the Hilton Garden Inn's first-class banquet center.
Congratulations and thanks to all the 150th committee members who have worked so hard to plan this special celebration period, including Jackie Hartman and Megan Umscheid in the President's office, who are spearheading the effort.
My Saturday started with a 9 a.m. visit and question-and-answer session with our nationally recognized Alumni Association's Board of Directors. Our Associate Athletic Director for Compliance Lindsey Babcock accompanied me and did a great job of explaining a number of national issues.
After a tour of the BTF and WSC with a couple special guests, at 11 a.m. we held our third facility groundbreaking in the last 24 months with a ceremony formally initiating construction on our new Intercollegiate Rowing Center! As we continue to strive toward our goal of a model intercollegiate athletics program, the IRC will dramatically enhance the experience of our 90-plus female rowing student athletes.
The IRC's location close to our Academic Learning Center and the new Student Athlete Performance Table located in the West Stadium Center will help maximize the efficiency of our student athletes. The IRC, which is being funded privately through Ahearn Fund contributions and athletics department revenue without the aid of tax, tuition or general university dollars, will include two state-of-the-art indoor rowing tanks, a new locker room and erg room with more than 40 rowing performance machines and office space for the coaching staff.
Highlights of the ceremony were the incredibly grateful comments from team captains Aly Bronder and Adria Ley as well as seeing the excitement in the crowd of approximately 200, including many current and former rowers and their parents. Click to read our full release.

Also on Saturday, our track and field team competed in the KSU Open at Ahearn Field House, which was transitioned practically overnight from the 150th celebration event to be ready to host a meet. I appreciate the hard work of our facilities and operations staff for making the quick turnaround as seamless as possible. Senior high jumper Erik Kynard highlighted the action as the defending Olympic silver medalist tied his own school record of 2.33 meters and also tied the Ahearn Field House facility record to win the event on Saturday.
Capping the day's activities was our 81-61 men's basketball win over a very good Baylor squad to move to 20-5 overall and 9-3 with a share of first place in the Big 12 Conference. Our crowd plays a huge role, and we continue be thankful for the intense environment our fans and students provide in support of Coach Weber and our team in Bramlage Coliseum. It was rocking once again last night against the Mountaineers!
Now on to a few more updates from around the department.
Check Out the West Stadium Center Construction Video Tour
Tremendous progress has been made over the last several weeks on the new West Stadium Center. You will notice a large amount of steel has been added to the center portion of the structure, and we are currently on track to have the entire steel structure in place by the middle of March. Recently, K-StateHD.TV assistant producer Jay Moline and I went on a tour of the facility . The West Stadium Center will be a transformational step for the entire K-State program, and we are looking forward to having it fully completed in time for the 2013 home opener against North Dakota State.
Zimmerman and Finney Visit Kansas Board of Regents
I had the privilege of accompanying football student athletes Ty Zimmerman and B.J. Finney to Topeka last week as they represented our entire football program in a recognition by the Kansas Board of Regents for its 2012 Big 12 Championship season. In return, Finney and Zimmerman presented each regent with a commemorative Big 12 Championship game ball on behalf of the entire Wildcat football program following the team's recognition.
K-State Alumni Association No. 1, Again!
Kansas State University alumni have demonstrated again why they are regarded to be among the most loyal graduates in the nation. Last week it was announced that K-State ranked as No. 1 in the Big 12 for the percentage of graduates who are members of their respective alumni associations for an unprecedented 17th straight year. We appreciate Alumni Association President Amy Button Renz and her staff for being terrific partners of K-State Athletics – Association membership and K-Staters' support worldwide is an instrumental piece to our vision of a model intercollegiate athletics program as well as President Schulz's K-State 2025 vision. Here is information on how you can join the K-State Alumni Association if you are not yet a member.
Upcoming Events
Good luck to all of our teams in action this week, beginning with our track and field teams competing at the Big 12 Conference Indoor Championships in Ames, Iowa. Following a midweek game at Oklahoma Wednesday, our women's basketball team returns home Saturday for a 2 p.m. matchup with Iowa State. The game will be televised live on FCS and K-StateHD.TV and will also serve as the Play4Kay game as the first 4,000 fans in attendance will receive a free pink t-shirt. Brittany Chambers continues her assault on the K-State record books, while fellow senior Mariah White is playing the best basketball of her career - it was awesome to watch them lead their teammates to a big win over Texas last week!
The baseball team, coming off two wins this past weekend in Charleston, will head back east to Myrtle Beach, S.C., for three more games beginning Friday. The Cats will take on Coastal Carolina at 3 p.m. Friday, Elon at 10 a.m. Saturday and Kentucky at 10 a.m. Sunday. Coach Bietau women's tennis team returns to the Midwest this weekend and will face Wichita State and Purdue in Wichita on Saturday and Sunday, while both of our golf teams head to Arizona next week – the women begin play Sunday and the men on Monday.

Finally, Chad Weiberg and the Ahearn Fund staff tell me that annual gifts are once again on a record pace as we approach the March 1 priority deadline for football ticket and parking related contributions. Thanks so much to all the K-Staters who have remembered that "Membership Matters!" Feel free to forward this email to a friend who is not yet a member of the Ahearn Fund – they can join for as little as $50 annually.
Go Cats!

John Currie