November 17, 2020
Find out about gut health, metabolic and neuroendocrine health: Invitation for nutrition research participants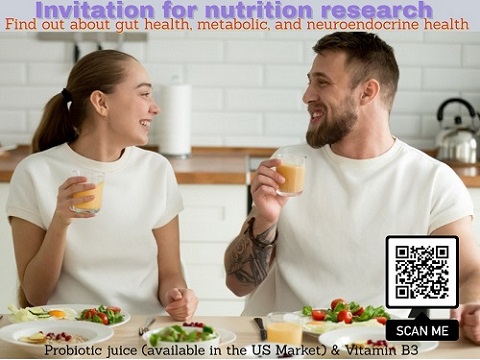 K-State researchers from the College of Health and Human Sciences are recruiting participants for a study examining the impact of daily consumption of fruit-flavor probiotic juice — available in the U.S market, worth $150 — and vitamin B3 on gut health, metabolic health and neuroendocrine health.
Participants of the study will have the opportunity to:
Learn about their health, metabolic and neuroendocrine functions.
Earn $30 for participation.
Receive a free gut microbiome analysis, blood lipid levels, liver enzyme levels in the blood, and hormonal analysis — worth $350.
The first 30 participants who complete the study will be eligible to enter a drawing to win a prize of:
Samsung – Galaxy Tablet 9.6 inches, one award.
HP Deskjet Wireless All-in-one printer — printer, scan, copy, one award.
Participants must be healthy adults, 18 years or older; willing to consume a small amount of probiotic fruit juice 70ml/day — a small measuring cup will be provided — which is about two shots or one-fifth of a can of soda, and vitamin B3 one tablet daily for six weeks; and available to commit three visits — 20-30 minutes per visit — to the College of Health and Human Sciences or the third floor of the Lafene Health Center building, Kansas State University.
To enroll or learn more information about this study, please tap on the "book now" button below to schedule a phone call or a visit at your convenient date and time.
This study has been approved by the Institutional Review Board and received approval No. No. 9973.1.