November 4, 2020
SciComm Week 2020: Science communication at the intersection of a global pandemic and social justice issues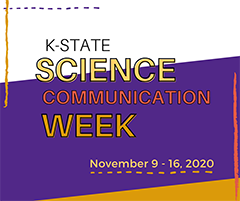 The Kansas Science Communication Initiative, or KSCI, is organizing the fourth Science Communication Week at K-State, with virtual events Nov. 9-16. KSCI seeks to engage communities in understanding, enthusiastically promoting and actively participating in science and research.

The annual Science Communication Week helps to raise awareness about the need and value of science communication and provides practitioners — scientists and communicators at all levels of education alike — with opportunities to broaden their horizons and sharpen their skills.
This year, Science Communication Week will feature a variety of timely events that intersect with the global pandemic and social justice issues. Detailed information on all events is available below. Please register to attend by 5 p.m. on the day before the specific event you wish to attend. After registering, you will receive a confirmation email containing information about joining the meeting.

The program for Science Communication Week at K-State is included below. All times are CST. More information on each event is available at k-state.edu/scicomm.
• Science Communication on Social Media
Sarah Winnicki, University of Illinois, Urbana-Champaign
1-2 p.m. Monday, Nov. 9
Winnicki will provide an overview of how to use social media to communicate science and engage members of the broader public, including discussion on how effective science communication depends on communicators' understanding of their audience's level of interest, preferred communication style and previous knowledge.
Please register to attend by 5 p.m. Sunday, Nov. 8.

• Global Food Systems Food Safety Workshop
8:15-11:30 a.m. Tuesday, Nov. 10
This workshop will focus on current research and future needs of meat safety in the food industry. It aims to inspire discussion between colleges to take an interdisciplinary approach to research and solving problems.
Please register to attend by 5 p.m., Monday, Nov. 9.

• Learning the Hard Way: Health Care Communication During a Pandemic
Sarah Hancock, Community HealthCare System
Noon to 1 p.m. Wednesday, Nov. 11
Hancock's presentation will provide important lessons learned for communicators who have to tackle controversial issues of high public interest.
Please register to attend by 5 p.m. Tuesday, Nov. 10.

• Science on Tap — How Citizen Science is Helping Amphibians in Crisis
Nicole Wade, Sunset Zoo, Manhattan
6-7 p.m. Wednesday, Nov. 11
Wade will give an overview of the leading nationwide amphibian data collection program, FrogWatch, the Association of Zoos and Aquariums flagship citizen science program. She will discuss her role in the program and the data collected locally, nationally and internationally over the last 10 years. With nearly two-thirds of all known amphibian species having declining populations and 41% being either threatened or endangered, FrogWatch is a program everyone can participate in to help collect the data needed to learn more about amphibian decline and to help to stop it. Data collected through this program has even helped identify and describe a new species of leopard frog on the East Coast. Come learn more about this program and learn how you can participate.
Please register to attend by 5 p.m. Tuesday, Nov. 10.

• Crossroads: Where Science Communication and Diversity, Inclusion, Equity and Accessibility Intersect
Ashanti Davis, Fleet Science Center, San Diego
4-5 p.m. Thursday, Nov. 12
Ashanti Davis joined the exhibitions department of the Fleet Science Center in February 2014 as a Tinkering studio coordinator. Now, as exhibition manager, she leads an interdisciplinary team in the development of unique experiences and exhibitions for visitors of all ages to the Fleet Science Center.

Davis will provide a short introduction on the intersection of science communication with diversity, inclusion, equity and accessibility, and then engage in a conversation about these issues with the participants. Davis will draw from her experiences as the chair and co-investigator of an internal group for diversity, inclusion, equity and accessibility, seeking to make an impact on organizational culture and systems.
Please register to attend by 5 p.m. Wednesday, Nov. 11.

• Navigating Virtual Presentations
Theresa Merrick, assistant director of the K-State Writing Center
1-2 p.m., Friday, Nov. 13
Merrick will share information on how to effectively present your research with a special focus on how to navigate the challenges of virtual presentation formats. Attendees will learn how to present written, graphic and oral content that can be easily understood and has an impact on diverse audiences. This session may be especially useful for graduate students who plan to give their first presentations this academic year, but more experienced graduate students may also learn new strategies for improving their presentation skills.
Please register to attend by 5 p.m. Thursday, Nov. 12.

• Too Creative for Science?
Agna R. Skop, genetics department, University of Wisconsin, Madison
11 a.m.-noon Monday, Nov. 16
Have you ever wondered what it is like to grow up in a family of artists and then end up a scientist? What does thinking like an artist offer the scientist? Can the blending of art and science encourage a more diverse population of students to pursue science, and improve the public understanding of science? Skop will give a glimpse into her life and how she has impacted science, education and the public with her two passions: science and art.
Please register to attend by 5 p.m. Sunday, Nov. 15.