February 12, 2013
Distinguished speaker: CEO of Aon to present College of Business Administration lecture
Submitted by Communications and Marketing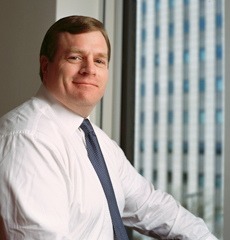 Kansas State University alumnus Gregory Case, the president and chief executive officer of Aon Corporation, will be the spring 2013 speaker for the College of Business Administration's Distinguished Lecture Series.
Case's lecture will be at 10:30 a.m. Wednesday, Feb. 27, in Forum Hall at the K-State Student Union. It is free and open to the public.
As president and CEO, Case directs more than 52,000 employees in more than 120 countries and has led the company to focus around client needs. Case is also a member of the company's board of directors.
Aon is the leading global provider of risk management services, insurance and reinsurance brokerage, as well as human capital consulting.
Prior to joining Aon, Case spent 17 years with McKinsey & Company, the international management consulting firm, most recently serving as head of the financial services practice. He was previously responsible for McKinsey's global insurance practice, and was a member of McKinsey's governing shareholders' committee.
Before that, Case was with the investment banking firm of Piper, Jaffray and Hopwood and the Federal Reserve Bank of Kansas City. Case is a former resident of Salina.
Case has a Master of Business Administration from Harvard Business School, and graduated summa cum laude from Kansas State University with a degree in finance. He serves on a number of boards, including Discover Financial Services, the International Insurance Society, Ann & Robert H. Lurie Children's Hospital, and the Field Museum of Natural History.
The Kansas State University College of Business Administration Distinguished Lecture Series brings successful business professionals to campus. Lectures are given every semester and are sponsored by Commerce Bank and the William T. Kemper Foundation.