February 12, 2013
Solving global hunger is Feb. 19 Lou Douglas Lecture topic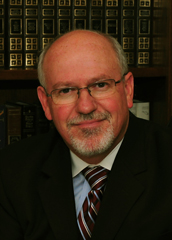 Rick McNary, vice president of strategic partnerships relationships for Outreach Inc., will present the UFM Community Learning Center Lou Douglas Lecture on Public Issues at 7 p.m. Tuesday, Feb. 19, in the K-State Student Union Grand Ballroom.
McNary is an innovator and advocate in the hunger space as evidenced by the development of the Kansas Hunger Dialogue, which gathered top administrators, faculty and students from Kansas' institutions of higher learning to collaborate on hunger. He is also the 2012 recipient of a National Innovation Award from the Alliance to End Hunger for his Healthy Foods/Hunger Free Community model and he is serving on the steering committee for the Universities Fighting World Hunger Summit in Overland Park in March.
Outreach Inc. is an organization that provides safe water, food, medical care and education to children and those in need at home and abroad. McNary also serves as a liaison for Universities Fighting World Hunger of Auburn University for UFHW Summit 2013, and as treasurer of the executive board for the Alliance to End Hunger in Washington, D.C.
Throughout his professional career, McNary has excelled in community leadership, teaching others the power of effective teamwork and volunteerism. McNary is a frequent keynote speaker on the topic of world hunger and blogs for several different hunger sites. He lives in Kansas.
Immediately Following the Lou Douglas Lecture and question-and-answer period will be a one-hour meal packaging event in the K-State Student Union Grand Ballroom to benefit the Flint Hills Breadbasket. It is sponsored by UFM Community Learning Center and coordinated by the Nonprofit Leadership Student Association in the School of Leadership Studies.
Volunteers will package 5,000 macaroni and cheese meals for the Flint Hills Breadbasket. Outreach Inc. has formulated a delicious and nutritious meal. This patent-pending meal is an accepted and well-liked dish that is highly requested by local food banks, pantries, churches and other food relief facilities. Maribeth Kieffer, executive director, will receive the meals, which will be presented by Morgan Peelen, president of Nonprofit Leadership Student Association and her executive committee team, as well as Linda Teener, executive director of UFM Community Learning Center, on behalf of the organization.