February 12, 2013
Biannual Wallace Kidd Diversity Award reception Feb. 13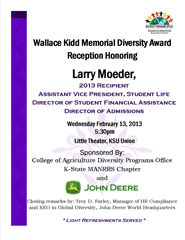 The K-State Minorities in Agriculture, Natural Resources, and Related Sciences, or MANRRS, chapter award reception will be at 5:30 p.m. Wednesday, Feb. 13, in K-State Student Union Little Theater. The biannual event is co-sponsored by John Deere.
As an organization, Minorities in Agriculture Natural Resources and Related Sciences has had the opportunity to learn more about the history of the College of Agriculture. With the abundance of information we learned, stories of minority trailblazers within the college have emerged, including about the late Wallace Ray Kidd, a Kansas City native. From his story we learned how hard work and persistence lead to a promising future.

Kidd was a force to be reckoned with. He and his first wife, the late Colleen Kidd, began the Manhattan Pest Control Company — now Anti-Pest Company — during his junior year of college. In 1950, Kidd was the first African American student to graduate from Kansas State University's department of entomology, earning a Bachelor of Science in entomology and parisitology. Kidd's company experienced rough beginnings, as his only mode of transportation by which to service his clients was a bicycle with a basket to hold his materials. Nevertheless, he continued to offer first-class service, allowing his business to expand. In its 61-year history, it is the only non-merged pest control company in Manhattan.
After hearing his incredible story the K-State Minorities in Agriculture Natural Resources and Related Sciences chapter was inspired to honor Kidd posthumously by establishing the Wallace Kidd Memorial Diversity Award. The award is to be given as recognition of an outstanding faculty/staff member that expresses an equal level of commitment to students and diversity.

Troy D. Farley, the manager of HR compliance and EEO in Global Diversity with John Deere World Headquarters, will give closing remarks. We invite the campus to join us in this special event.
This year's award recipient is Larry Moeder, assistant vice president for student life and director of student financial assistance and admissions at Kansas State University. Past Wallace Kidd recipients are invited to attend this year's reception. The 2011 recipient was Steven Graham, assistant to the dean and director of the College of Agriculture.

We would like to thank the Wallace Kidd family for sharing this wonderful story with us and allowing us the opportunity to honor him by establishing an award in his name. We hope our efforts will help to promote diversity while educating others about the College of Agriculture's rich history.

If you would like to learn more about K-State MANRRS or the Wallace Kidd Memorial Diversity Award come by the College of Agriculture diversity programs office in 139 Waters Hall or contact Zelia Wiley at zwiley@k-state.edu or 785-532-5793.