October 20, 2020
WoodCats present K-State cutting board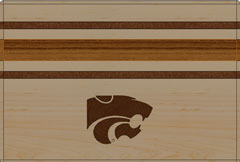 Help support engineering students' project for the fall 2020 K-State's Manufacturing Systems Design and Analysis course.
The students' product is an 11-inch by 17-inch ash cutting board with a walnut, maple and purple heartwood accent. It has a wood-burnt, K-State Powercat outline on the bottom side of the board and a juice channel on the top of it.
It is now available for preorders at www.msda-fall-2020.myshopify.com. We are only making 40 cutting boards so order yours while you can.