October 20, 2020
'Growing our Mindset: Difference Makes US Stronger' forum today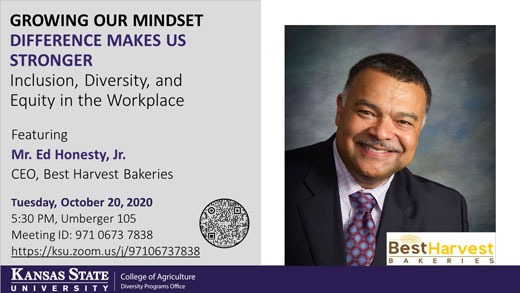 To continue the dialogue of inclusion and diversity, the College of Agriculture's student leadership will present the fall 2020 student-led diversity forum "Growing our Mindset: Difference Makes US Stronger; Inclusion, Diversity, and Equity in the Workplace" from 5:30-7 p.m. Tuesday, Oct. 20. The event will be in a hybrid format, with an in-person option at 105 Umberger Hall and a Zoom option; Meeting ID 971 0673 7838.
The student groups who will lead the event are College of Agriculture Ambassadors, Ag Student Council and the K-State MANRRS chapter.
The forum will feature Ed Honesty Jr., CEO of Best Harvest Bakeries. Honesty will discuss the importance of having inclusion, diversity and equity in the workplace. The event promises to be engaging and impactful yet can only be great with your participation.
Instructors, please note that we will take attendance of students who participate; if you require this information please contact Diversity Programs Office undergraduate assistant Summer Smades at smades@k-state.edu.