February 7, 2013
A letter from A.D. John Currie: National Signing Day, remembering the Bramlages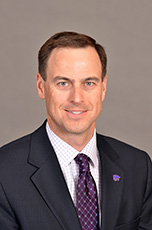 Good morning, K-State Nation.

National Signing Day was Wednesday with faxes rolling into the Vanier Complex as Coach Snyder welcomed the newest members of the Wildcat football program. Check k-statesports.com for signee bios and videos.

Tuesday night, Coach Weber's 13th-ranked squad captured another Big 12 road win at Texas Tech to improve to 18-4 overall and 7-2 in the Big 12, our best nine-game start in conference play since Michael Beasley wore a Wildcat uniform in 2007-08.

Big news for a key department leader
In case you missed it, here is a link to yesterday's national announcement that Reid Sigmon, our senior associate AD/COO, has been named the chief financial officer for the new college football playoff and national championship organization. In his new role, which will begin in April 22, Reid will join Executive Director Bill Hancock in the group's new headquarters in Dallas. He will bring valuable on-campus perspective into what makes a post-season experience special for student-athletes, coaches and institutional fans as well as credibility and common-sense to the new era of postseason football, including the championship game and the new semifinals and elite bowl placement system.

While Reid's daily presence will be missed dearly, I am very proud and excited for him to have this transformational opportunity. Reid was our first hire, arriving at K-State in July 2009 after directing the Tampa Super Bowl organizing committee. We simply cannot overestimate the impact he has had on the athletics program's re-organization and fiscal growth from a forecasted $2 million operating deficit four years ago to one now recognized nationally as a model of fiscal stability with a $59 million budget this year along with $100 million in ongoing athletic facility upgrades. Thanks to Reid we have a tremendous senior staff that will continue great leadership and support for our programs.

As I discussed in my letter last week, with success comes the fact that our people, both from an administrative and coaching standpoint, are noticed by others around the country for the great work they are doing in Manhattan, and, in turn, often are targeted by other organizations or programs. This is a compliment to K-State, our student athletes and fans, and further evidence of the progress being made toward our vision of being a model intercollegiate athletics program.

No. 13 'Cats return home Saturday
The men's basketball team will return home Saturday for a 5 p.m. game against Iowa State as Coach Weber's charges will look to avenge a hard-fought loss in Ames a few weeks ago. We look forward to a great crowd and atmosphere Saturday evening as a national ESPN2 audience will be tuned in. We've appreciated the great energy from our student section over the last several games!

Remembering the Bramlage Family
Please arrive early for Saturday's game as a special remembrance and presentation will be made to the Bramlage family. Last June, Kansas State University and the communities of Manhattan and Junction City were devastated by the news of a tragic airplane crash that claimed the lives of Ron and Becky Bramlage, and their children, Brandon, Boston, Beau and Roxanne. Ron and Becky were graduates and major supporters of Kansas State University and, along with their children, avid Wildcat fans. Ron, the grandson of Fred Bramlage, for which Bramlage Coliseum is named, was prominent in the Junction City business community, and Ron and Becky were very active in various community activities, including USD 475 and as parishioners of St. Francis Xavier Church. Before Saturday's game, family members will present a family portrait of Ron, Becky and their children that will then be permanently displayed in the Legends Room near the portrait of Fred Bramlage. Their lasting impact and passion for K-State will always be remembered.

Baseball season upon us
The 2013 baseball season is right around the corner as 10th-year head coach Brad Hill takes his club to Charleston, S.C., next week for an opening weekend tournament against High Point, The Citadel and George Mason. Following a return trip to South Carolina to face nationally-ranked foes Coastal Carolina and Kentucky, along with Elon, the Wildcats open their 31-game home schedule and a season-long 19-game homestand with a three-game set against Oakland, March 1-3. As the weather warms up outside, fans should make plans to fill Tointon Family Stadium once again this year. Season tickets start for as little at $75, an outstanding average of less than $2.50 per game, and are on sale now while single-game tickets will be available beginning Monday, Feb. 18. Pregame tailgates will once again be a hit this year with the addition of live music prior to Friday and Saturday home games. Be sure to visit www.k-statesports.com for a full promotional calendar next week.

Full slate of action this weekend
Several of our squads will be on the road this weekend, while Coach Bietau's tennis squad will have its home opener at 11 a.m. on Saturday against No. 23 Tulsa at Body First Tennis and Fitness Center. It will be USTA/ITA Campus Kids Day as well as kids ages kindergarten to eighth grade can participate in this free event, which is designed to expose junior players, their parents and coaches to college tennis matches. Each participant also will receive a free K-State tennis T-shirt, a K-State tennis poster, enjoy cookies and refreshments and meet Willie the Wildcat. Click to register. Among our teams traveling this weekend are our nationally-ranked track teams, who will send split squads to Ames, Iowa, and Albuquerque, N.M., and the women's hoops team will be in Ames on Saturday to face the Cyclones at 1 p.m. Finally, our equestrian team will be represented at the 2013 Winter Equestrian Festival's Collegiate Equitation Challenge by Rachel Webster and Larissa Laffey this weekend in Florida.

Thanks for all you do to support K-State teams and student athletes.
Go Cats!

John Currie