February 6, 2013
Black History Month keynote speaker is Nikki Giovanni
Submitted by Bryon K. Williams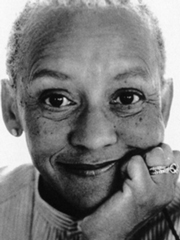 Kansas State University's Black Student Union invites students and faculty to hear our Black History Month keynote speaker, Nikki Giovanni, at 7 p.m. today in the K-State Alumni Center Ballroom.
Giovanni is a world-renowned poet, writer, commentator, activist and educator. Over the past 30 years, her outspokenness in her writing and lectures has brought the eyes of the world upon her. One of the most widely-read American poets, she prides herself on being "a Black American, a daughter, a mother, a professor of English."
Giovanni remains as determined and committed as ever to the fight for civil rights and equality. Always insisting on presenting the truth as she sees it, she has maintained a prominent place as a strong voice of the black community. Her focus is on the individual, specifically, on the power one has to make a difference in oneself, and thus, in the lives of others.
Giovanni was born in Knoxville, Tenn., and grew up in Lincoln Heights, an all-black suburb of Cincinnati, Ohio. She and her sister spent their summers with their grandparents in Knoxville, and she graduated with honors from Fisk University — her grandfather's alma mater — in 1968. After graduating from Fisk, she attended the University of Pennsylvania and Columbia University. She published her first book of poetry, "Black Feeling Black Talk," in 1968, and within the next year published a second book, thus launching her career as a writer. Early in her career she was dubbed the "Princess of Black Poetry," and over the course of more than three decades of publishing and lecturing she has come to be called both a national treasure and most recently one of Oprah Winfrey's 25 Living Legends.

The Black Student Union is partnering with the Student Government Association, K-State Alumni Center and the office of diversity to make this event possible.