September 22, 2020
Adulting 101: How to be an informed voter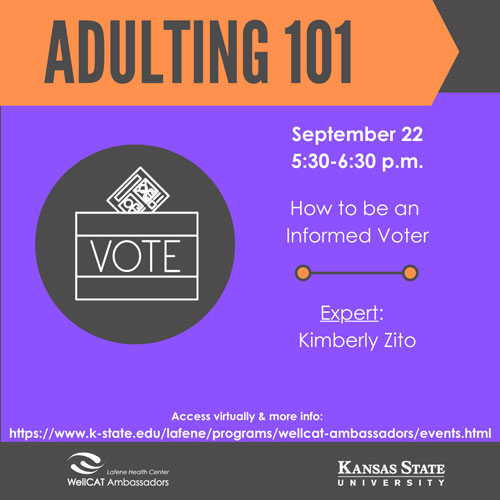 As part of the Adulting 101 series, the WellCAT Ambassadors at Lafene Health Center will offer "How to be an Informed Voter" from 5:30-6:30 p.m. Tuesday, Sept. 22, via Zoom.
Kimberly Zito will present the seminar. A former journalist for the Wall Street Journal and Dow Jones in London, CNBC Europe and NPR station WUSF in Tampa, Zito has given up being objective and has turned into a community activist and vote mobilizer. She moved to Manhattan in 2019 when her husband was sent to Fort Riley.
During the workshop, participants will learn why it's important to vote, how to register to vote — even when your college residence is different from your home, and how to find out who/what is on your ballot.
For more information, visit the Adulting 101 website, email wellcat@k-state.edu or call 785-532-5226.