September 22, 2020
Agricultural economics students win national case study competition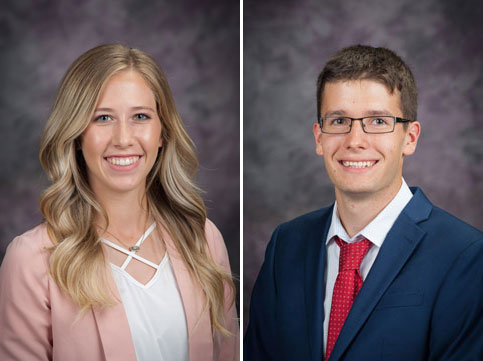 Bailey Hinkle and Devin Brand, master's students in agricultural economics, recently competed in the Agricultural and Applied Economics Association's national Case Study Competition and earned first place.
The students were given an in-depth case study covering a real business venture, Solinftec, a Brazilian technology and precision ag company that wants to establish a foothold in the United States. Hinkle and Brand had a month to prepare their proposed solutions and strategies for the company and to submit them in the form of a video presentation.
The video submissions were reviewed by a panel of judges, including faculty from across the United States, as well as the chief operating officer of Solinftec. Hinkle and Brand then had to present their strategy and defend their solutions to the judges in several rounds of live discussions.
"The competition looked a little different this year due to the pandemic, but we were excited about the opportunity to use our education and skills to provide a solution to a real-world problem," Brand said. "We are grateful to our advisor, the competition organizers and the company executive who thoughtfully considered our proposed strategy."
"The first-place win in this national competition is a result of Devin and Bailey's hard work and creativity," said Aleksan Shanoyan, associate professor of agricultural economics and the team's advisor. "It is also a testament to the high-quality training they received in the department of agricultural economics at K-State."
In the past 20 years, the Agricultural Economics Case Study Team has placed in the top three 12 times and has placed first seven times in the Agricultural and Applied Economics Association competition.
"This continues the tradition of K-State agriculture economics graduate students placing top in national and international competition," Shanoyan said of the programs continued success.