Adulting 101
The Morrison Family Center for Student Well-being offers a series of Adulting 101 workshops designed to teach K-State students basic life skills that are not often taught in the academic classroom. This spring semester's sessions are designed to prepare graduating or outgoing students for their first professional careers following the completion of their degree and are co-sponsored by the K-State Career Center.
Spring 2022 Sessions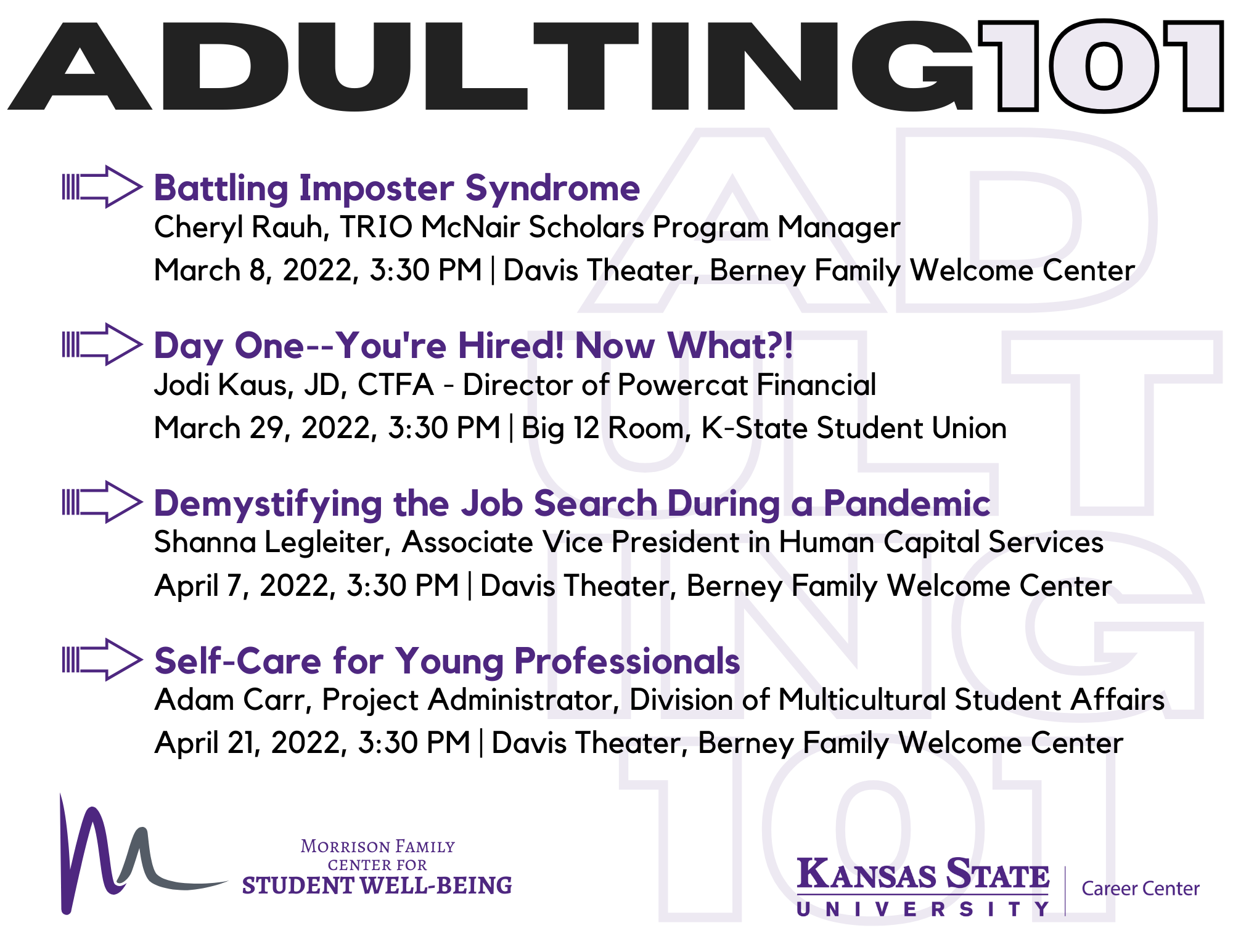 Session 1: "Battling Imposter Syndrome"
Cheryl Rauh, TRIO McNair Scholars Program Manager
March 8, 2022 at 3:30 p.m. | Location: Davis Theater, Berney Family Welcome Center
Many people experience feelings of unworthiness and worry that others will discover they don't belong, a feeling commonly labeled "imposter syndrome." This notion of imposter syndrome can be particularly strong when adapting to a new environment or certainly when entering the workforce for the first time. This session will explore what imposter syndrome is, how it can manifest, and what steps you can take to work through it. Attendees should be prepared to learn reflective strategies to identify the sources of their anxieties, which can be both internal and external. Common strategies for coping and reducing these negative feelings will be discussed, and attendees should be empowered to identify solutions that address the causes of their own anxieties so that they can move forward with confidence.
Session 2: "Day One—You're Hired! Now What?!"
Jodi Kaus, JD, CTFA – Director of Powercat Financial
March 29, 2022 at 3:30 p.m. | Location: Big 12 Room, K-State Student Union
Once your full-time job is secured there are many next steps that may be new and unfamiliar. Come learn important tips for success:
Understand your total compensation packages including employee benefits
How to complete a W-4 tax withholding form
Learn how to take advantage of key employee benefits
Understand why you should start saving for retirement now
Learn the next steps in student loan repayment
Session 3: "Demystifying the Job Search During a Pandemic"
Shanna Legleiter, Associate Vice President in Human Capital Services
April 7, 2022 at 3:30 p.m. | Location: Davis Theater, Berney Family Welcome Center
Applying for a job and progressing through a search process may seem quite daunting but it doesn't have to be! In this session, students can learn about some basics to be mindful of when searching for a job in 2022…and during the pandemic. Takeaways that students will gain are:
Best practices to prepare for the job-hunt process
Pitfalls to avoid as a job applicant and in interviews
Good questions to ask a potential employer
Tips to navigate dialogue regarding remote work options
A behind-the-scenes look at hiring
Session 4: "Self-Care for Young Professionals"
Adam Carr, Project Administrator, Division of Multicultural Student Affairs
April 21, 2022 at 3:30 p.m. | Location: Davis Theater, Berney Family Welcome Center
In this workshop, we will explore the importance of addressing mental health by recognizing its scope and impact, especially for new graduates as they navigate the workplace. Our goal will be to address potential strategies available to you that can be incorporated in both your personal and new professional settings to promote mental wellbeing and success. Topic areas will include:
Understanding the larger scope of self-care
Finding and setting boundaries for your care
Learning some useful tools to use every day
Sustaining progress with mental wellness
Questions?
(785) 532-6595
wildcatwellbeing@ksu.edu