September 2, 2020
Pinkall, Kansas City Chorale release world-premiere recording of Kastalsky's 'Requiem'
Submitted by School of Music, Theatre, and Dance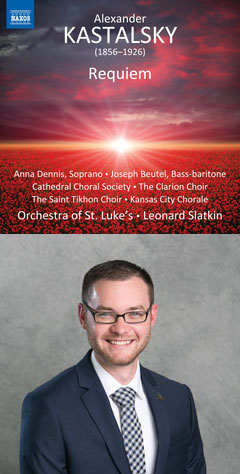 On Aug. 28, the world-premiere recording of Alexander Kastalsky's "Requiem" was released by Naxos Records in its complete and revised 17-movement version for orchestra, choir and soloists. The album — which was recorded live in the Washington National Cathedral on Oct. 21, 2018, during a performance commemorating the 100th anniversary of the Armistice — features the combined forces of multiple Grammy-winning ensembles.
Bryan Pinkall, associate professor of music, has been a soloist and chorister with the chorale for nearly a decade. The Kansas City Chorale is an internationally renowned professional choir conducted by Charles Bruffy. Since 2007, the chorale's albums have been recognized with 14 Grammy nominations and six Grammy awards.

"Requiem" was envisioned as a memorial to the allied soldiers who died during the First World War. The composer, Alexander Kastalsky (1856-1926), dedicated each movement to the various countries who fought alongside Russia including the United States. Because performances of sacred music in Russia were prohibited after the rise of Communism, Kastalsky's monumental piece was never fully performed until the creation of this album.

After a century in waiting, the Cathedral Choral Society, Clarion Choir, Saint Tikhon Choir, Kansas City Chorale, the Orchestra of St. Luke's, and conductor Leonard Slatkin present the world-premiere recording of Kastalsky's "Requiem," a universal memorial echoing the tragedy and hope of the "war to end all wars."

Listen to the album today at kcchorale.org.