July 22, 2020
Julia Morse selected for service award from American Society for Engineering Education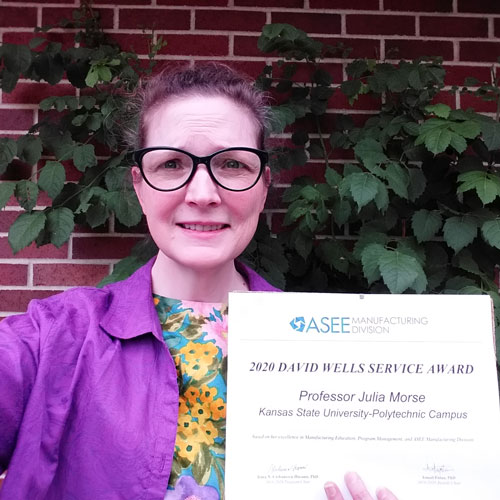 Julia Morse, associate professor of mechanical engineering technology at K-State Polytechnic, is being recognized for her commitment to the American Society for Engineering Education.
After contributing to the organization for 22 years, Morse has been selected for the 2020 David Wells Service Award by ASEE's Manufacturing Division. She is the first woman to have been chosen for this honor, established in 2017 and presented annually at ASEE's international conference.
"I was really touched that they recognized my contributions with this award," Morse said. ASEE's Manufacturing Division has a team of dedicated contributors who put in a lot of service every year, so it means a lot."
Since 1998, Morse has been involved with the ASEE Manufacturing Division, first serving as a paper reviewer and moderator for many years and then joining the Division Officers as webmaster in 2012. At K-State Polytechnic, she teaches courses related to product design, manufacturing and automation, and she is a certified manufacturing engineer and a certified enterprise integrator.
"My involvement with the ASEE Manufacturing Division gives me the opportunity to regularly interact with the best manufacturing educators from all over the country and world," Morse said. "We share our experiences and innovations. Their dedication and energy inspire me to keep that going for our students."
The ASEE Manufacturing Division is an international group of more than 200 university and college educators and industry supporters who collaborate and support each other to improve engineering-related manufacturing education. The division also actively works to promote student engagement in career-related opportunities such as maker-type events and design competitions.