May 13, 2020
JMC 2020 Send-Off Virtual Event May 16 to celebrate graduating class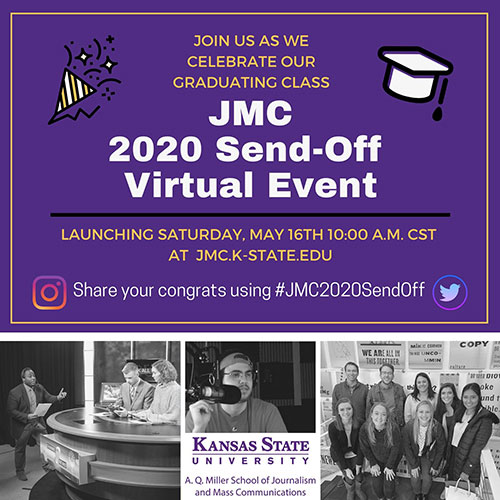 The A.Q. Miller School of Journalism and Mass Communications will host a virtual event for its graduating class at 10 a.m. CDT Saturday, May 16, at jmc.k-state.edu.
The JMC 2020 Send-Off Virtual Event will recognize and celebrate the accomplishments of the A.Q. Miller School's graduating class, as well as honors, awards and scholarships received by all students in the department. Special guests, including Kansas State University President Richard Myers, will also share words of wisdom and encouragement to students receiving their degree.
"As faculty, one of the most important things we can do is attend commencement and support our graduates," said Director Steve Smethers. "But in this case, since we can't have commencement, we are taking commencement to them. But ceremony or no ceremony, this may be the start of a new tradition in the A.Q. Miller School!"
Students, faculty, alumni and more are encouraged to tune in and share their congratulations on social media using the hashtag #JMC2020SendOff.