January 2, 2013
Five familiar faces in Phoenix cheering for K-State: Brad Nelsen
Submitted by Communications and Marketing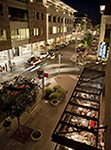 Among the tens of thousands of purple-clad fans cheering on Kansas State University in Greater Phoenix, at least five of them should look familiar to locals. That's because these K-State alumni are making a profound impact on the city they now call home.
Here's a closer look at one of the Phoenix-area alumni:
When visitors flock to the Phoenix area for the Fiesta Bowl, they'll see Kansas State University on the football field — and in the skyline.

University alumnus Brad Nelsen and his architecture firm, Scottsdale, Ariz.-based Nelsen Partners Inc., have helped shape the Phoenix area, designing prominent office, restaurant, retail and mixed-use developments.

Nelsen graduated from Kansas State University in 1980 with a bachelor's degree in architecture. His father owned an architecture firm in Omaha, Neb., and inspired Nelsen's college choice.

"Out of all of the schools in the region, my father would always say that K-State best prepared future architects," he said. "That opinion was a heavy influence in me attending K-State."

The College of Architecture, Planning and Design is ranked one of the best in the nation. Three of the college's programs are among the Top 10 programs in the nation, and five are among the Top 15, according to an annual survey by DesignIntelligence magazine.

"Kansas State University prepared me to work hard and taught me how to excel at what I do," Nelsen said.

After graduation, Nelsen served as president and partner of the firm Shepherd Nelsen and Wheeler in Dallas. He later opened the firm's first regional office in Phoenix and moved to Melbourne, Australia, to open another office. He acquired his former firm and founded Nelsen Architects, now called Nelsen Partners, in 1990. The firm also has offices in Austin, Texas.

Nelsen Partners has created iconic projects in the Phoenix area, including Kierland Commons mixed-use lifestyle center, Scottsdale Quarter shopping and entertainment district, and renovation of the Biltmore Fashion Park shopping mall.

"In the Phoenix area alone, we have been responsible for signature landmark projects," Nelsen said. "You'll find that our projects throughout the valley are nothing short of amazing and are extremely successful, from mixed-use projects to retail to offices to hotels."

Nelsen helps plan and design the concepts, imagery and direction of the firm's projects. He has been involved in more than $1 billion worth of construction projects around the world. Nelsen Partners has won awards from the Urban Land Institute, American Institute of Architects and other professional associations.

Nelsen Partners is a capstone member of the College of Architecture, Planning and Design's Founders Guild to support transforming Seaton Hall, home of the college, into a 21st century learning and research facility.