January 2, 2013
Five familiar faces in Phoenix cheering for K-State: Thomas Hill
Submitted by Communications and Marketing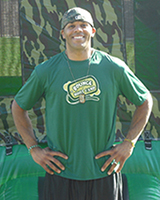 Among the tens of thousands of purple-clad fans cheering on Kansas State University in Greater Phoenix, at least five of them should look familiar to locals. That's because these K-State alumni are making a profound impact on the city they now call home.
Here's a closer look at one of the Phoenix-area alumni:
A love for athletics inspired former K-State and NFL football player Thomas Hill to create a fitness program that has reached thousands of children in the Phoenix area
After graduating from K-State with a bachelor's degree in social sciences, Hill was selected as a free agent by the Green Bay Packers in the 2004 NFL draft. He traveled the NFL circuit and then decided to settle in the Phoenix area in 2005.
In addition to working as a sales representative, Hill now owns an inflatable equipment company with his wife, Jane. Hill's daughter, Jada, inspired him to create Bounce Boot Camp, a children's fitness program that uses inflatable equipment, such as castles, slides and obstacle courses.
"My goal was to get kids active but provide an atmosphere where it isn't about being the best athlete," Hill said. "If kids are having fun, they have no clue they are burning calories and getting into shape."
Hill and six certified trainers lead the program, which helps children develop hand-eye coordination, balance, agility and strength. The program has become a quick success, with two locations and franchise interest from several states across the country. Several thousand children have participated in the program since it began in September 2011.
Hill continues improving the fitness program, which is a lesson that he learned from K-State Head Football Coach Bill Snyder. Hill attributes Coach Snyder and the university for teaching him values he uses in his own business.
"K-State is where I grew up," Hill said. "One of the big values I learned from Coach Snyder is the importance of being on time. I also learned about consistency. You have to have a schedule that works and you have to be consistent with it."
Hill and his wife, Jane, live in Anthem, Ariz., with their three children: 9-year-old daughter Jada and 3-year-old twin sons Torrin and Titus. Hill will proudly wear his No. 88 K-State jersey when attending the Fiesta Bowl to cheer on the Wildcats.