April 3, 2020
Kansas State University names Maureen Redeker as acting general counsel
Submitted by Division of Communications and Marketing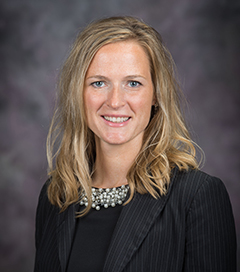 Maureen Redeker, an experienced attorney who has advised Kansas State University for many years, will serve as acting general counsel. Redeker, the university's deputy general counsel, was appointed to the position by Richard Myers, university president. The appointment is effective Sunday, April 5.
"Through her years of service to Kansas State University, Maureen has shown leadership and skill as a qualified attorney who listens to her clients," Myers said. "We are pleased to welcome her to this role and we know she will continue to provide excellent counsel to the university."
Redeker's appointment follows the retirement of General Counsel Cheryl Strecker, who retired this month after 27 years of serving the university.
As acting general counsel, Redeker will provide legal advice, assistance and representation to all university campuses. The attorneys in the Office of General Counsel act as in-house counsel for the university. They advise administrators acting on behalf of the university and represent the university in external administrative and legal proceedings.
"Through my work with the Office of General Counsel, I have had the opportunity to assist clients from many areas at the university," Redeker said. "I look forward to continuing to work with the great people of this university and I am honored to serve in this role."
Redeker became a full-time member of the Office of General Counsel in 2013 and has served as deputy general counsel, associate general counsel, assistant general counsel and staff attorney. She has significant experience advising university administrators at all levels and has served as the primary legal advisor in the areas of data privacy and security, conflicts of interest, research compliance, complex contracts, risk management and general compliance, Title IX and international activities.
She also has worked for the U.S. Army at Fort Riley, the Kansas Department of Social and Rehabilitation Services and a large international law firm in Kansas City. She served as a judicial clerk to Judge John Lungstrum of the U.S. District Court for the District of Kansas.
Redeker earned her Juris Doctor from Florida State University College of Law, and spent a semester studying international law in the Netherlands. She earned a Bachelor of Arts in psychology and a Bachelor of Science in business administration at Maryville University of Saint Louis, where she was a four-year letter winner on the varsity women's basketball team and a graduate of the Institute for Leadership and Values.