February 13, 2020
Camille Lafleur to present Jurich Lecture on Social Justice Feb. 20
Submitted by College of Health and Human Sciences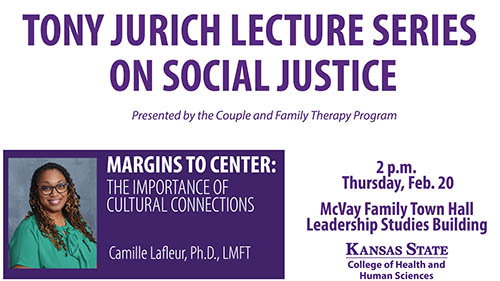 The couple and family therapy program in the School of Family Studies and Human Services, College of Health and Human Sciences, will host Camille Lafleur, assistant professor of marriage and family therapy at Oklahoma Baptist University, Thursday, Feb. 20, for the annual Tony Jurich Lecture on Social Justice.
Lafleur will present "Margins to Center: The Importance of Cultural Connections" at 2 p.m. in the McVay Family Town Hall in the Leadership Studies building.
She has supervisory and clinical experience working in both community mental health and private practice. Prior to her work at OBU, she led the K-State Home-Based Family Therapy Partnership. Her research interests focus on diversity and cultural competence. An educator at heart, Lafleur currently has a podcast, "Melanated Information that Empowers Change" or M.I.C., that focuses on the intersection of black life and mental health. Additionally, she helped create the American Association for Marriage and Family Therapy Topical Interest Network, "Margins to Center: Cultural Connections among CMFTs."
Lafleur received her doctorate from K-State in 2009.
The Tony Jurich Lecture Series on Social Justice honors Tony Jurich, a professor in the couple and family therapy program at Kansas State University. He began his career at K-State in 1972 and led by example in the marriage and family therapy program where he taught for more than 39 years before his death in 2010.
Jurich's life and work embodied the core principles of social justice and he challenged his students and colleagues to do the same. Tony's core leadership tenets — strive for resonance; assume value and be respectful; be compassionate; do what is right; seek out, affirm and utilize diversity and lead by example — provide a roadmap for sustainable community change.
This event is free and open to the public.
If you would like to support the Tony Jurich Lecture Series, please visit give.evertrue.com/ksu/jurich.