January 27, 2020
Chapman Center announces winners of Interdisciplinary Research Grant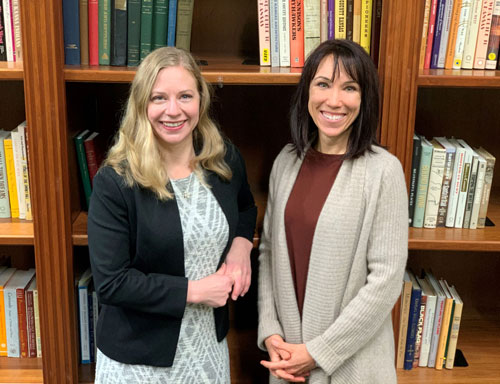 The Chapman Center for Rural Studies, a center of excellence in the College of Arts and Sciences, announces Mary Kohn, associate professor of English, and Alisa Garni, associate professor of sociology, as recipients of the 2020 Interdisciplinary Research Grant.
Kohn and Garni will use this grant on their interdisciplinary project, "Sharing Stories and Building Bonds: A Sociological and Linguistic Analysis of a 'New Destination' Community." Their focus is on generational connections between language, identity and experiences living in rural communities. Renewed rural immigration since the 1990s provides a crucial opportunity for social scientists to examine identity construction and immigrant incorporation in communities that have been battling depopulation.
"We're so happy to join forces with the Chapman Center to continue our mission of building undergraduate research opportunities to examine the rich and changing landscape of Kansas communities," Kohn said.
Kohn and Garni will receive a stipend, laboratory and research space, and undergraduate research assistant, in addition to media and administrative support. This will allow them to discover, engage in and build a greater and stronger pathway to the changing aspects of current rural life.
"The Interdisciplinary Research Grant initiative is a significant step for the Chapman Center," said Director Bonnie Lynn-Sherow. "It builds on nearly 14 years of experience with undergraduate research and engagement, confirms our commitment to rural residents and propels highly creative faculty toward discovery."
The grant encourages and supports faculty working creatively and collaboratively with scholars outside their specializations to generate new insights into the dynamics of rural life today with recommendations for improving the quality of life for rural residents now and in the future.
Information about the next round of grants will be available in fall 2021.