January 9, 2020
Seay assumes role as 2020 president of Financial Planning Association
Submitted by College of Health and Human Sciences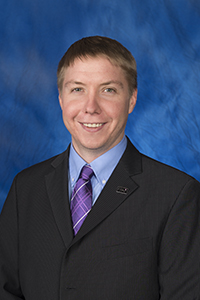 Martin C. Seay, program chair and associate professor of personal financial planning and certified financial planner, officially assumed his duties as the 2020 president of the Financial Planning Association effective Jan. 1. In this leadership role, Seay will lead the FPA board of directors, volunteer leaders and staff to advance the vision and strategic direction for the association and its role in serving the needs of certified financial planner professionals.
As the 2020 FPA president, Seay will concentrate his efforts on building the connection between practitioners, academics and the next generation of financial planning professionals while guiding the future of FPA and the betterment of the profession.
"As we commemorate the 20th anniversary of FPA, I'm honored to be part of a progressive movement that is bringing positive change for our members, volunteer leaders and the profession," Seay said. "FPA is dedicated to elevating the financial planning profession and I look forward to continuing my work with those in our professional home to further solidify FPA as a leading force in helping planners transform lives."
Seay has been recognized with the 2014, 2017 and 2019 FPA Annual Conference Best Research Paper Award, the CFP Board's 2016 ACCI Financial Planning Award, the 2016 Montgomery-Warschauer Award, the 2016 Kenneth Tremblay Early Career Housing Award, the AARP Public Policy Institute Financial Services and the Older Consumer ACCI Award in 2017, and the 2018 Richard L.D. Morse Early Career Award. Additionally, his work has been published in the Journal of Financial Planning, Journal of Behavioral Finance, Journal of Financial Counseling and Planning, Financial Services Review, Journal of Economic Psychology, Journal of Consumer Affairs, Journal of Financial Services Professionals, Journal of Family and Economic Issues, and Journal of Financial Therapy, among others.
Seay received his doctorate in housing and consumer economics with an emphasis in personal financial planning from the University of Georgia.
View a video and interview for the Journal of Financial Planning with Seay to learn more about his top priorities as 2020 FPA president, his career journey and aspirations for the profession.
The Financial Planning Association is the principal membership organization for certified financial planner professionals, educators, financial services professionals and students who are committed to elevating the profession that transforms lives through the power of financial planning. Through a collaborative effort to provide members with tools and resources for professional education, business support, advocacy and community, FPA is the indispensable resource in the advancement of today's certified financial planner professional. Learn more about FPA at OneFPA.org and follow on Twitter at twitter.com/fpassociation.