January 15, 2020
Brockway recognized as Professor of the Week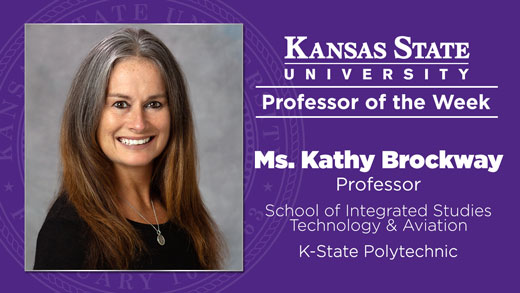 Kathy Brockway, business professor in the School of Integrated Studies at Kansas State University Polytechnic Campus, was recognized as Professor of the Week at the Jan. 14 men's home basketball game.
Brockway was recently selected as the 2019 recipient of the Marchbanks Memorial Award for Teaching Excellence. The accolade commemorates a Kansas State Polytechnic faculty member's commitment in the classroom, service to students and overall merit as a teacher.
An almost 20-year veteran of Kansas State Polytechnic, Brockway's teaching focus is in accounting and finance. One of her main goals with these subjects is to help students understand the role they play in real life, assigning projects in everything from retirement planning to budgeting and balancing a bank account, to filling out a tax return manually.
Additionally, Brockway assists with the campus's First Year program, co-teaches study abroad courses and is a club advisor. She also provides leadership training to corporations and organizations, an opportunity that allows her to explore what's going on in the industry so she can bring back cutting-edge and critical information to the classroom.
A native of Great Bend, Brockway studied business administration at Kansas State University and has a Master of Accountancy, also from K-State. After graduation, Brockway moved to New Mexico where she worked as an auditor and earned her certified public accountant license. When her family returned to Kansas, she was an accountant for a hospital and taught at Fort Riley before teaching at K-State for 10 years and then at Kansas State Polytechnic in 2001.
The Professor of the Week recognition is coordinated by Faculty Senate, the president's office, K-State Athletics and the Division of Communications and Marketing. Recipients are faculty members selected by Faculty Senate caucuses. Those selected are provided tickets to a men's home basketball game of their choosing and are recognized during halftime. This is just a small token of appreciation for those who teach at K-State.