January 3, 2020
Teagarden recognized as Professor of the Week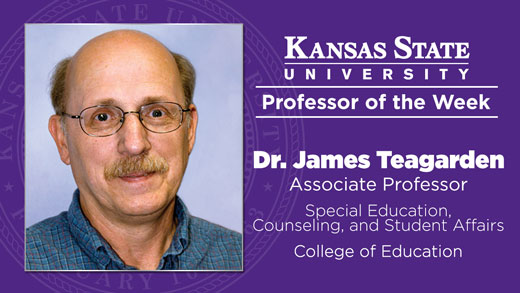 James "Jim" Teagarden, associate professor in the special education, counseling and student affairs department, was recognized as Professor of the Week at the Dec. 29 men's home basketball game.
Teagarden has been a faculty member in the department since 2005. Teagarden's personal and professional journey is described in the College of Education's documentary series, "A Walk in My Shoes," in this way: "When Jim Teagarden was just a small boy, he witnessed an act of injustice that stayed with him throughout his life. Years later a chance encounter with a teacher got him thinking about how he could make a change for the better. For more than 20 years, Jim worked as a special education teacher in Marysville, Kansas, working with children with severe emotional and behavior disorders. Today Jim is helping to train the next generation of special education teachers at Kansas State University." His passion for caring and educating all individuals is demonstrated by his commitment to effective and innovative instruction. He teaches and models for his students the strategies and dispositions necessary for successful teaching and learning proficiencies.
An example of his exemplary educational accomplishment is Teagarden's leadership in the university and community organization Project EXCELL. Teagarden spends Saturday mornings with individuals of all abilities providing experiences designed to enhance one's quality of life. Teagarden's belief in equity and access drives his motivation to engage and inspire future educators. The future educators privileged to be taught and mentored by Teagarden and faculty honored to be a colleague of Teagarden have expressed their appreciation for the exceptional quality of his instruction and mentoring and have nominated him for multiple awards. Selected awards presented to Teagarden are listed below.
Teagarden's instructional expertise is another point of pride for the college and university. He is a highly respected researcher in special education, specifically behavioral disorders with an emphasis on violence prevention with behavioral and emotionally challenged students. He is a principal author in the journals and a leader in the behavioral disorder professional organizations. Finally, he is a frequently sought out presenter and consultant in this most challenging field.
Teagarden earned his Doctorate of Education in special education in May 2002 from Kansas State University; Master of Science in special education in December 1986 from K-State; and Bachelor of Science in elementary education in May 1984 from K-State.
Selected honors and awards:
James R. Coffman Award for Outstanding Service to the Honor Council, faculty representative, 2014; Susan Phillips Gorin Award Nominee, Council for Exceptional Students, 2012; Kathryn A. Holen Faculty Excellence in Service Award Nominee, Kansas State University, 2012; Susan Phillips Gorin Award Nominee, Council for Exceptional Students, 2011; College of Education Faculty Excellence in Service Award Nominee, Kansas State University, 2011; Commerce Bank Outstanding Undergraduate Teaching Award Nominee, Kansas State University, 2011; Adviser of the Year Nominee, Kansas State University, Blue Key, 2010.
The Professor of the Week recognition is coordinated by Faculty Senate, the president's office, K-State Athletics and the Division of Communications and Marketing. Recipients are faculty members selected by Faculty Senate caucuses. Those selected are provided tickets to a men's home basketball game of their choosing and are recognized during halftime. This is just a small token of appreciation for those who teach at K-State.