November 14, 2012
International grains program hosts milling executives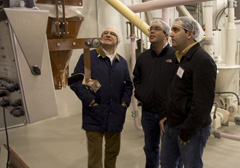 Mill owners, directors and managers from around the world traveled to the International Grains Program buliding Nov. 5-9 for the Buhler-K-State Executive Milling short course, where 15 participants experienced a hands-on learning opportunity. The course was hosted by Kansas State University's International Grains Program and the Hal Ross Flour Mill.
The course was led by Tobias Naenny from the Buhler Training Center in Uzwil, Switzerland. Assisting him were two separtment of grain science and industry faculty members John Steinfort, Buhler adjunct instructor, and Shawn Thiele, milling operations manager.
In describing the course, Steinfort said, "The course is designed to educate milling executives and non-operation managers on all aspects of the milling process, which will help them to make better business and managerial decisions on a daily basis."
One participant eager to learn was Luis Villaverde, director of Guatemala operations with Molinos Modernos. Villaverde was grateful for the experts who shared their expertise and the background of milling. He found the information useful as his company begins to expand their wheat mill.
"I was interested in the knowledge and being able to take advantage of the expertise from the people in the business," Villaverde said. "This course allowed me to better understand the business as a whole."
Throughout the week participants were in the classroom learning the basics of flour milling and then headed to the mill to apply those principals. From the Hal Ross Flour Mill to the Shellenberger Hall milling laboratory, they had the opportunity to put their skills to the test. These trainings allowed participants to learn about purifiers, milling machinery, proper cleaning procedures and the milling process.
"Going to the mill for workshops was very rich," Villaverde said. "I have learned about the properties of the grain and the milling process from breaks all the way to getting the flour."
Not only did the experts teach the participants, but the participants were able to network and learn from each other. Villaverde said he enjoyed exchanging ideas with other participants and seeing how their companies handled situations.
This is just one example of the many partnership trainings offered through International Grains Program. In addition to flour milling and grain processing, International Grains Program offers trainings in the areas of feed manufacturing and grain management, and grain marketing and risk management. For more information about training opportunities with the International Grains Program visit www.grains.ksu.edu/igp.