November 12, 2012
Letter to campus from A.D. John Currie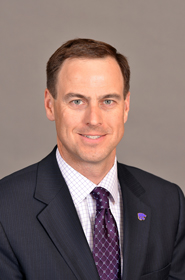 Good Morning, Wildcat Nation.
It was a busy K-State sports weekend, and after traveling last week I headed back to MHK on the afternoon American Eagle flight from DFW in time to make it to Bramlage for Friday's men's and women's home season-opening basketball doubleheader. Both Coach Weber's inaugural K-State team and Coach Patterson's 17th squad came off good exhibition victories and were ready to get the "real" games started against Idaho State and North Dakota, respectively.

Saturday was another huge day for Coach Fritz's No. 17 ranked volleyball squad, which was host to TCU before Coach Snyder's charges put their No. 2 BCS ranking on the line vs. TCU in Fort Worth.

Sunday afternoon we were back in Bramlage for Wildcat women's basketball action against Arkansas-Pine Bluff. Today and Tuesday Bramlage hosts two nights of doubleheader pre-season NIT action beginning with the K-State-Lamar game at 7 p.m. followed by North Texas vs. Alabama Huntsville at 9:30 on Tuesday. Tuesday night also will feature a consolation game before the winner's square off for the right to advance to Madison Square Garden next week. Lamar is coming off an NCAA tournament appearance last year, while UAH advanced to the Elite Eight of the Division II tournament so please come early and be loud and help give the 'Cats the Octagon of Doom home court advantage you've made famous throughout college basketball!

Also in action this weekend was our cross country team in the Midwest Regional Championships in Springfield, Mo., and Petra Niedermayerova, who is competing in the ITA Championships in New York. Following a tough loss Thursday in the round of 32, Petra will move on to the consolation round this weekend.

November seems to be the busiest month of the year in athletics and while there is a K-State athletic event almost every day we also should remember that this month is also critical for our student athletes as they complete term assignments and get ready for December's final exams. K-State student athletes continue to do a great job in the classroom with already fine APR scores that continue to get even better.

I'm happy to report that my extended family members and friends across the country have become huge K-State fans. In fact just the other day one of my very favorite cousins innocently asked me if I could get a ball autographed by a certain one of our prominent players so that my cousin could have the perfect Christmas present for my nephew.

Now this particular player is the kind of guy who would do anything for his teammates and our staff and coaches and I know him well enough to be confident that he'd gladly help his AD out. Or, I could get a ball and ask our faithful football administrative assistant Joan to take care of it for me. But, our institutional policy is that we don't ask our student athletes to autograph items in season because frankly, they could (and would — because they love our fans!) spend all day signing and never completely get done. However, at this point in the year I think all our fans prefer for our student athletes to focus on the academic work and preparation for our upcoming contests. And that's why player-autographed items won't be in the Currie Christmas sled again this year!

As always we do try to find times — like at football fan day in August — to provide opportunities for fan autographs. We appreciate your understanding and continued support!

Packing Fort Worth with K-Staters!
K-State fans have a national reputation of travelling in support of the Wildcats, whether in the regular season or for bowl games. With the Dallas-Fort Worth area representing one of the largest out-of-state alumni groups in the country, Wildcat Nation was in full force this past weekend. A K-State contingent of 5,000-6,000 was expected to be inside Amon G. Carter Stadium Saturday, while thousands of others were cheering on the Cats outside the stadium and around the city. The K-State Alumni Association hosted a pregame event prior to Saturday's primetime game near the stadium. The DFW area and Texas feature our largest concentration of alumni outside the state of Kansas and Kansas City, and this also represents home for the largest percentage of our current out-of-state student population. As we continue the march toward the K-State 2025 plan to elevate Kansas State into the ranks of the Top 50 public research universities in America K-State's Texas connection will be more important than ever. It's yet another reason that TCU was a great addition to the Big 12 Conference.

Here's more information from around the department:

Webster Named Big 12 Rider of the Month
Congrats to junior equestrian rider Rachel Webster on being named the Big 12 Rider of the Month for her strong performances in Equitation Over Fences for the month of October. The captain holds an overall record of 12-2 this year, while going 7-0 in Equitation Over Fences. Webster went 4-0 in the month of October with victories over Baylor, New Mexico State, West Texas A&M and South Dakota State. The fifth-ranked Wildcats return to action on Nov. 17 at Oklahoma State.

Men's Basketball Mini-Plans/Single Game Tickets On Sale
With basketball season under way last weekend, selected mini plans and single game tickets are on sale. A five-game KU Mini-Plan is available for $250, which includes the choice of two non-conference games, one conference game from Baylor, West Virginia and Texas, one conference game from Iowa State, Oklahoma State, Oklahoma, Texas Tech and TCU, and the KU game on January 22. Single-game tickets for the seven non-conference contests are priced at $20 for bench seating and $30 for chairback seating. A Wildcat 4-Pack is also available with four bench tickets for $60, while bench group tickets can purchased for just $10 each for groups of 12 or more. Fans can purchase $20 general admission tickets to five games, which includes North Florida on November 18, Texas Southern on Dec. 18, UMKC on Dec. 29, South Dakota on Dec. 31 and Oklahoma State on Jan. 5, 2013. A Holiday Mini-Plan is also on-sale, for which fans receive one general admission ticket to the UMKC, South Dakota and Oklahoma State games for just $40. Single-game tickets are on-sale for the Hy-Vee Wildcat Classic with Florida set for Saturday, December 22 at the Sprint Center in Kansas City. Tickets start at just $10.

Cheer on Coach Weber and the Wildcats, including seniors Rodney McGruder, Jordan Henriquez and Martavious Irving, this season. Bramlage Coliseum has sold out each of the past two seasons, and K-State is one of only 14 schools to draw more than 12,000 in paid attendance for every home game the last two years. Purchase your ticketstoday! Call 1-800-221-CATS or visit kstatesports.com.

Catch Exciting K-State Women's Basketball Action Too
K-State women's basketball season tickets start at just $2 per game with your football or men's basketball season tickets — or $3 per game when you purchase the Wildcat 4-Pack for only $200! Chairback seats are available for just $132 with an Ahearn Fund membership, and each order includes a K-State basketball jersey. Can't attend every game? Utilize the roll-over program to redeem unused game tickets for seats to future games. Don't miss the excitement in Bramlage this season for K-State women's basketball. Visit kstatesports.com or call 1-800-221-CATS to order your tickets today.

We are also offering a "Starting 5" mini-plan for five games this season. The "Starting 5" mini-plan begins at $25 for general admission tickets and includes the following games: Sunday, Nov. 11, against Arkansas-Pine Bluff; Sunday, Dec. 9, against South Dakota; Wednesday, Jan. 16, 2013 against Baylor; Wednesday, Feb. 6 against Oklahoma and Saturday, March 2 against Texas Tech. Visit kstatesports.com for the full schedule, including the annual Pack the House and Play4Kay games.

Rolando Blackman Named to Final Four Organizing Committee
The 2014 Men's Final Four will be at Cowboys Stadium in Arlington and former Wildcat great Rolando Blackman has been named to the North Texas Local Organizing Committee, the group that is responsible for hosting the event. Rolando has been a tremendous ambassador for K-State and is a perfect fit for this 14-member organizing committee.

Compliance Matters
We remind you again that with high visibility and excitement comes potential vulnerability and pitfalls. Please remember to call or email our compliance staff anytime you have NCAA-related questions. Remember that it is generally not permissible for staff members and fans to send gifts, buy meals or drinks, though small and well-intentioned, for our student athletes or their families. Let's all be vigilant and "ask before we act" to avoid accidently endangering a student athlete's eligibility.

That's it for today. Good luck to all our programs this week, and we appreciate your continued support of all of our athletics programs!
Go Cats!

John Currie