November 12, 2012
Support Wildcats Against Rape at Cold Stone Creamery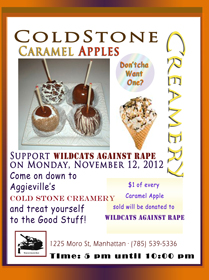 The Wildcats Against Rape, or W.A.R., student group is inviting you to a fundraiser at Cold Stone Creamery to raise money for the club.
Join us at Cold Stone Creamery from 5-10 p.m. Monday, Nov. 12, and indulge yourself in a sweet treat before going off to Thanksgiving break. Ten percent of everything sold throughout the night will go to the club and most importantly, $1 from all caramel apple sales will go back to the group.
Wildcats Against Rape is dedicated to bringing awareness to K-State's campus about the issue of rape and sexual assault. The overall goal of our group is to change the part of our culture that makes it acceptable for people to take control away from others and behave in a violent, selfish way. Wildcats Against Rape may be a small group of individuals but ideals of peace and nonviolence is what gives us hope and strength.
The Wildcats Against Rape student group hopes to see you there!