November 6, 2012
All-University Campaign for K-State: What do you support?
Submitted by Susan Wolf Berhow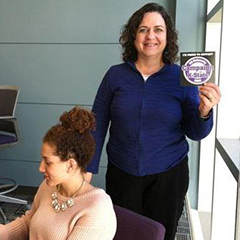 Last week, faculty and staff posted photos and comments to the All-University Campaign Facebook page answering the question: "What area of K-State do you support?" The answers were as varied as the people who posted them.
It's not too late to make a gift and show what you support on Facebook. Here's what to do:
If you haven't already, make your All-University Campaign gift. You can get started here.


Grab your All-University Campaign sign. If you lost your sign, you can download one here.

Go to a location on campus that represents what you support and take a photo. It could be your classroom, your lab, your office or something else on campus that you are passionate about.


Post your picture on the All-University Campaign Facebook page. Feel free to be creative, and be sure to post why you give to that area. Don't forget to tag.
The great thing about the All-University Campaign is that you choose the area you want to support. As of this week, 39 percent of faculty and staff have made a gift to the All-University Campaign. Be sure to make your gift by Friday, Nov. 16, to help the campaign have another record-breaking year.