October 30, 2019
Woods named Communicator of the Year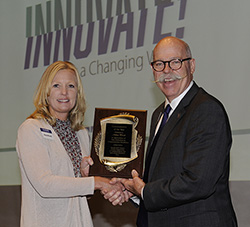 Congratulations to Aliesa Woods, regional local unit director for North Central and Northwest Kansas, who has been named the 2019 K-State Research and Extension Communicator of the Year. She was honored on Oct. 24 at a session of the K-State Research and Extension Annual Conference.
Woods was recognized for her passion and dedication to communicating through a variety of media the work and value of K-State Research and Extension while director of the Post Rock District. Woods' enthusiasm, knowledge, leadership, and innovation are key to reaching new audiences.
The award is given by the Kansas Chapter of Association for Communication Excellence and the K-State Department of Communications and Agricultural Education. Woods was chosen from a strong field of nominees from across the Extension system.