November 5, 2012
Letter from A.D. John Currie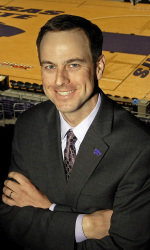 Good Morning, Wildcat Nation!
It was another big weekend in the Little Apple for our university, community and second-ranked football program as we welcomed ABC/ESPN's "
Saturday
Night Football" to town to nationally televise our contest against No. 24 Oklahoma State. November is a crazy-busy month for our staff (and our fans) as our fall sports overlap with the launch of men's and women's basketball. There are also extra logistics and planning to prepare for likely post-season play for football and volleyball, while of course we continue with multiple projects as part of our $100 million in athletic facility improvements.
Congratulations are in order for our men's golf team, which won its final tournament last week in California in dramatic fashion, and both our basketball teams won their exhibitions last week! Friday our No. 5 equestrian team battled TCU at our home venue, Timbercreek Stables, and No. 16 volleyball was at No. 7 Texas in Austin. The equestrian program also had its reunion last weekend.
Of course, we have to remember our fundamentals as our friends from our stadium contractors Mortensen/GE Johnson were demonstrating as I pulled into the parking lot at about 7:15 a.m. on
Wednesday
. There in the pre-dawn darkness were about 100 West Stadium Center construction workers in their bright yellow safety vests and helmets, in a semi-circle doing their daily pre-work group calisthenics! Construction executive Bill Hedge and superintendent Justin Horsch also tell me they do a safety procedures briefing every morning as well.
These are good reminders for all of us as we proceed through our busy lives!
Further inspiration
Wednesday
morning came from Gen. Richard Myers, a 1965 K-State graduate and the former chairman of the Joint Chiefs of Staff, who graciously volunteered his time to visit with our entire athletics staff. Gen. Myers skillfully related lessons of teamwork, integrity and accountability from his military experiences to what our staff and athletics programs do on a daily basis. From the launching pad of Kansas State University's ROTC program, Gen. Myers has served the Air Force and our country with the greatest of respect and integrity, while also being a great ambassador for K-State! He and his wife, Mary Jo, continue to give countless hours of service to K-State and the KSU Foundation.
Now on to the updates:
New Innovative FOX Deal Announced

As recently announced, we have in place our new third-tier multimedia rights agreement with FOX and Learfield Sports. We appreciate the partnership that we have with both FOX and Learfield and are excited about this new innovative television agreement that will maximize the exposure and visibility of our programs and student-athletes throughout Kansas, the Midwest and the entire country.
For example, last
Tuesday
night during the men's basketball exhibition against Washburn, I received a text message from one of our Ahearn Fund members living in New York City who was enjoying watching Coach Weber's debut game with his son. In a further exchange of text messages, he informed me that he was watching live on Fox College Sports, channel 454 on Time Warner Cable, this of course amidst the aftermath of Hurricane Sandy.
With seemingly endless and increasing myriad of channels and systems, it won't always be simple to find our broadcasts, but this new agreement gives us the greatest live distribution of K-State sports in our history!
As a reminder, we operate under the league's contracts with FOX and ABC/ESPN for our top-tier football and men's basketball television rights. Under these agreements, every Big 12 home football game will have the opportunity to be televised, and the arrangement offers us flexibility in terms of us broadcasting and distributing events that are not selected as part of the league's television package. We also have the ability to replay games on our own institutional platforms following a 72-hour window from the original broadcast date.
This new third-tier agreement is unique and innovative, thanks to the progress and production capabilities in which we have invested since we launched K-StateHD.TV, our landmark and nation-leading, high
-
definition digital network. A number of live games and programming included in this new agreement will actually be produced and distributed to FOX by our own K-StateHD.TV personnel. In all, FOX Sports will televise nearly 60 broadcasts, including up to 28 live K-State sporting events this season with regional distribution on FOX Sports Kansas City and FOX Sports Midwest, some national distribution on FOX College Sports (FCS) and world-wide distribution on K-StateHD.TV. A complete schedule of live game telecasts and the various FOX platforms carrying the telecasts will be released in the coming weeks.
Click to read our full release on the new FOX deal
.
Volleyball ready to go
Wednesday
the Wildcats host KU in the Dillon's Sunflower Showdown. Come out to Ahearn at 7 p.m.
for 90s' Night as we take on the Jayhawks!
Fort Riley Day

Gen. Myers' visit to campus was well-timed as
Saturday
's football game served as Fort Riley Day. We are proud of the relationship we have with Fort Riley and the Big Red One, and it has been tremendous to see that partnership grow through the years. We had plenty of activities surrounding the game, including: Taps and a moment of silence prior to the National Anthem; the 1-28 Black Lions forming a tunnel for our team's entrance to the field; the Fort Riley Soldier and NCO of the Year on the field during the coin toss; and the Big Red One Band playing in unison with Frank Tracz's Pride of Wildcatland Marching Band during halftime. Fort Riley Day is always one of the most-anticipated home football events of the season, and we enjoyed celebrating the efforts and sacrifices of those brave men and women once again!
Exhibition play continues
Congratulations to Coach Weber for his exhibitiondebut victory last
Tuesday
night over Washburn
.
Coach Patterson, beginning her 16th year at K-State, and the women's basketball team were also successful
last Thursday
against Fort Hays State. The men's team hosted Emporia State on
Sunday
, while the women's squad takes on the Lady Blues at 7 p.m. tonight
.
Both teams get the regular season started
Friday
in a double-header at Bramlage Coliseum!
Chambers a candidate for the Senior CLASS Award

Brittany Chambers, the senior leader of the women's basketball squad, along with Mariah White, has been named a candidate for the Senior CLASS Award. All of our student athletes make great effort on the playing field and are outstanding representatives of K-State in the community, but we now have two student athletes up for this prestigious honor. Collin Klein is a finalist in the football division. Remember to vote for Collin at
www.seniorclassaward.com
.
Klein named finalist for sportsmanship award

Speaking of Collin, last Thursday he was named a finalist for the ARA Sportsmanship Award. It was his third off-the-field honor of the year, and if he wins the award, Coach Snyder could have two Sportsmanship Award winners since his return in 2009, as Jeron Mastrud was the winner that season. We salute Collin for his continued success on and off the field!
Basketball Training Facility move-in
Both of our basketball programs have made the move into the new $18 million Basketball Training Facility and are settling in with their daily work routines and practices.
Tonight
we are hosting members of our Ahearn Fund National Leadership Circle at the BTF, while we had a public showing last week. K-Staters everywhere should be proud of the new facility!
WSC updates
With the BTF fully operational and other projects either complete or in the developmental stage, our primary focus is now the West Stadium Center. More steel has been added to the south tower of the facility, while the north end is beginning to take shape. It's been great to see our fans' reactions to the progress over the last few football games. We appreciate our fans' support of the project and continued patience during this transition season of the project. Be sure to
follow the progress of the WSC
daily.
Men's golf ends fall on high note

Congratulations to the men's golf team for capturing the Pacific Invitational title, the second tournament victory of the fall for Coach Norris' squad! The exciting tournament victory came down to the final putt as sophomore Kyle Weldon nailed a birdie putt on No. 18 to help the Wildcats win by one stroke.
That's it for
today
. Good luck to all our programs this coming week, including Petra Niedermayerova of our women's tennis squad at the USTA/ITA National Indoor Championships from
Thursday
through
Sunday
in Flushing Meadows, N.Y.
Our fans never cease to amaze me in how loyal they are to K-State Athletics, and we appreciate your continued support of all of our athletics programs!
Go Cats!